The leaves are starting to change, the air is crisp in the mornings, and Pumpkin Spice has bombarded my taste buds. That means autumn has arrived! The cool air has me reaching for my wool sweaters and cozy beanies and my project lineup is bulking up. Find your next autumn color palette for a knitting project, inspired by this time of year.
Warm Tones Autumn Color Palette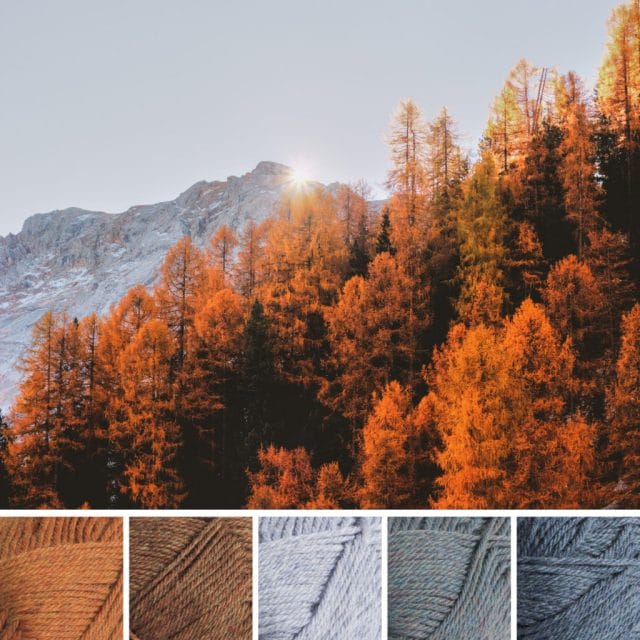 The first autumn color palette is inspired by fall foliage. My love for orange is reinvigorated every fall when leaves change. The contrast of orange trees with blue skies on clear days is so inspiring to me! It instantly makes me feel calm and comfy. Our classic wool yarn, Wool of the Andes, knits crisp sweaters with excellent stitch definition … the perfect garment to throw on for your autumn stroll outside.
Featured colors: Persimmon Heather 24280, Rooibos Heather 25642, Lake Ice Heather 23898, Opal Heather 25645, and Icicle Heather 25992.
You may also enjoy: Summer Yarn Color Palettes
Flannels & Beanies Autumn Color Palette
My outfits really shine during the Fall. I feel most comfortable in Levi's, flannels and beanies. Throw on a classic sweater and it will take you right into winter. The yarn I recommend for classic wardrobe staples? Twill!
Twill is a superwash Merino yarn with 3-ply twist and satisfying density which makes it gorgeous for intricate cables and stockinette stitch. The sheen and next-to-skin softness combined with it's machine washable convenience keeps me reaching for it in my stash again and again.
Featured colors: Dungaree 27931, Graphite Heather 27927, Crabapple 27933, and Gold Rush 27934
Coffee, Lattes & Tea Galore Color Palette
I'm as basic as they come; give me a Pumpkin Spice Latte, and I will have a good day. A yummy warm drink on a cold day is like a hug! There is also something about the rich, neutral gradient of coffee treat colors that instantly draw me in. I think that is one of the first things that drew me into Simply Alpaca yarn, which makes up this neutral autumn color palette.
The special thing about this yarn is that is it the color of the natural fiber; no dyes or bleach are used to process the yarn. Paired with the loose ply, softness, and natural warmth, anything you knit with Simply Alpaca will feel like a big bear hug.
Featured colors: Alexis 27492, Alton 27488, Alton Twist 28705, Aldous 27486, Aldous Twist 28704, and Alfonse 27487.
You may also enjoy: Autumn Dishcloth Knitting Patterns
Halloween Kitties Autumn Color Palette
Although I am not a huge Halloween person, I do love some ghost stories and superstitions. But I would rather snuggle a black cat than watch a horror movie! Give me a chunky knit blanket and a kitty to snuggle, and my day will be made. My favorite bulky yarn to knit while snuggling my kitty? Biggo!
I have made countless accessories and a cardigan with Biggo, and it really is no surprise why I love it so much. The superwash merino and nylon make it unbelievably soft but also machine washable. The light and lofty 2-ply knit to a squishy fabric and the bulky weight makes projects knit up in no time.
Featured colors: Asphalt Heather 25624, Rabbit Heather 26086, Dove Heather 25615, and Bare Biggo 26089.
Fall Baking Color Palette
This autumn color palette is inspired by baking! What I appreciate most about cooler weather is that I can bake to my heart's content without making the house too hot. My first order of business is to find a great Cider donut recipe (If you have one you love, leave a link in the comments!). I also can't wait to make a decadent chocolate cake to treat myself to.
Another luxurious treat? Our Merino and silk yarn, Gloss. The mix of fiber takes dye very well so we are able to get rich, lavish, saturated colors that are perfect for fall. Velvety texture, multiple weights, drape, and stitch definition makes Gloss perfect for any project. P.S. Gloss comes in three different weights (lace, fingering, and DK).
Featured colors: Captain 28589, River Rock 28590, Harvest 28594, and Masala 24719.
I hope these autumn color palettes inspire you to snuggle up with a soft yarn and to finish up some WIP that you were too busy to finish this summer! Stay tuned for more inspiration on our blog, Instagram, and Facebook.
All photos via Unsplash.