The Axiom KAL begins October 1st, 2023, so now is the best time to begin picking out yarn to have it ready to cast on by the 1st! The Axiom Sweater was designed using Wool of the Andes Worsted, but this pattern lends itself to substituting other worsted weight yarns that cable well. The key attributes to look for are good stitch definition and elasticity to make well-defined cables and ribbing that holds its shape. Here are the yarns we think are best to use and why!
One of the two suggested yarns, High Desert Tweed is a great yarn to pair with this pattern! We love our 100% American wool yarn, and it was a popular choice among Knit Picks staff for their own Axiom Sweaters. High Desert's twist makes bouncy, beautiful cables, and it's decadently soft. Andi, Stacey, and Alena all picked High Desert Tweed for their KAL projects, and Regan will be using heathered shades of High Desert Worsted.
Use Axiom's other suggested yarn, Wool of the Andes Worsted, in your favorite shade, and your project is sure to turn out just as cute as the sample photos. Or use its sibling, Wool of the Andes Tweed, for a no-fuss substitution. Both yarns are great for cables, as you can see! The Knit Picks team is loving tweeds this fall, and Carlene will be using Wool of the Andes Tweed for her Axiom.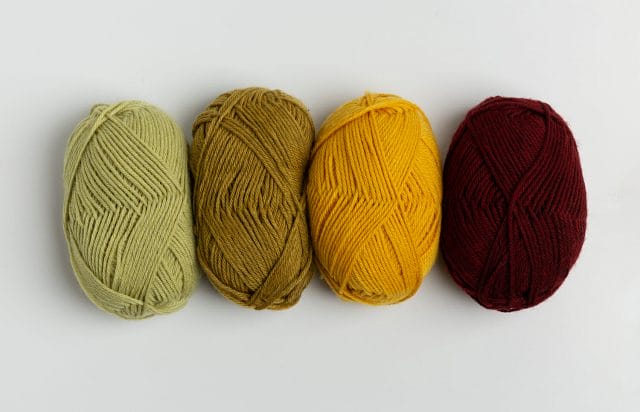 Wonderfully soft Swish doesn't just make lovely cables; it's also easy to care for because it's machine washable. Swish has truly beautiful stitch definition, and it's beyond cuddly and cozy. Alexis chose Swish Worsted for her project for both its convenience and softness.
If you're not a wool fan, Brava Worsted is a great alternative and produces lovely cables. You can even join in our office's current tweed infatuation by using Brava Tweed! Although no one on our team chose to use Brava, we're confident it's a great substitute for this project.
---
No matter what yarn you choose to use—to set yourself up for success—knit a swatch, wash it, and block it like you will your final sweater to check your gauge. If it doesn't match the pattern's gauge, repeat with different sized needles. The gauge listed in the pattern is used to calculate all the stitch counts, so if you match the listed gauge after washing and blocking, your finished sweater will be just the right size, even if you used a different yarn!