A chill has crept in the air and my wardrobe is being layered with cozy sweaters, socks, and hats. It is the most inspirational time of year (in my opinion!). Bring on the Christmas tunes, twinkle lights, and wool knitting projects!
Christmas Lights Winter Color Palette
The magic of the season shines bright with twinkle lights. While I love the look of crisp white lights, I love to adorn my tree with a rainbow of colors every year. Our curated Stroll Tonal Mini Packs come in an array of colors, perfect to adorn your small gifty projects with a rainbow of colors.
Featured colors: Sunset 44544
Cozy Vibes Winter Color Palette
The cozy vibes that started in autumn have rolled into winter. Give me a soft blankie, strong tea, and a pretty plant, and I have no reason to go outside! A staple in winter cozy knitting? Our practical magnum opus: Palette. With over 100 colors to choose from, Palette has a color for every project.
Featured colors: Jay 24581, Turmeric 24251, Autumn Heather 24002, and Forest Heather 24584
Icy Landscape Winter Color Palette
Adventuring in winter is fun, even with the cold wind. All you need is a comfortable, light, and warm sweater to keep you warm on your icy hikes. My favorite yarn for lightweight but warm sweaters is Wonderfluff. Extremely cozy and bulky, warm and resilient … what else do you need in a sweater yarn?
Featured colors: Cobblestone Heather 27187, Wellies Heather 27197, Hare Heather 27189, Moose Heather 28694, Wonderland Heather 28693, Turquoise Heather 27195
Nature Winter Color Palette
The rustic texture of Wool of the Andes Tweed is the perfect pair for Winter knits. Wonderfully warm for all weather, this sturdy, all-purpose yarn has excellent stitch definition and heirloom durability. It is ideal for cabled sweaters, textured stitch afghans, and every day accessories to bundle your loved ones in!
Featured colors: Down Heather 25458, Sarsaparilla Heather 28308, Rabbit Heather 25455, and Forest Heather 25969
Bakery Winter Color Palette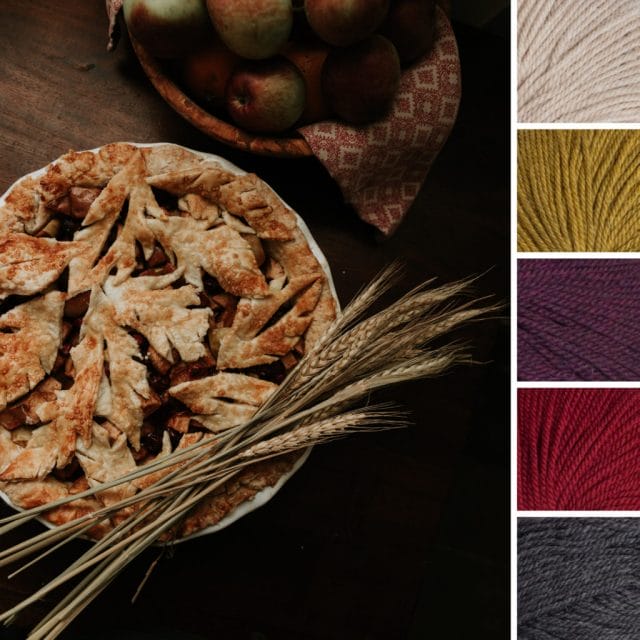 Holidays and family time inspire me to bake my tried and true recipes. Since I have extra time at home this year, I have been trying to find new ways to update my classic recipes.
One of my favorite yarns we carry, Twill, has a new update too. It now comes in fingering weight! Twill is everything you'd want in a yarn: it's bouncy, versatile, and luxuriously soft—it blocks beautifully too! Twill's lovely sheen and next-to-skin softness combined with its machine washable convenience makes it the stash essential you'll reach for again and again.
Featured colors: Horchata 28528, Serpent Heather 28525, Black Cherry Heather 28530, Crabapple 28531, Graphite Heather 28529
I hope these winter color palettes inspire you to knit some functional but beautiful projects to keep you warm during these chilly months. Stay tuned for more inspiration on our blog, Instagram, and Facebook.
All photos vis Unsplash.
You might also enjoy: Autumn Color Palette Inspiration, Summer Color Palette Inspiration.