What are knitters and crocheters to do during the hot summer days, when a heavy wool project is just way too much to handle? Easy breezy cotton dishcloths! These small projects are perfect for a quick satisfying knit without weighing you down, and whether you're fan of lace, cables, colorwork or all the above, we have over 250 free patterns to choose from.
The Little Leaf Dishcloth features sweet little leaves across a reverse stockinette background. These are created with simple increases and decreases – these leaves are easier than they look! The whole dishcloth is finished with a contrasting I-cord border.
The cute Woven Polka Dots Dishcloth is a great way to use up leftover yarn from other projects. A contrasting color is woven through the main color with slip stitches, creating the small dots. It's perfect for yarn such as Dishie Multi, as the highly variegated colors creates a unique project every time you knit it.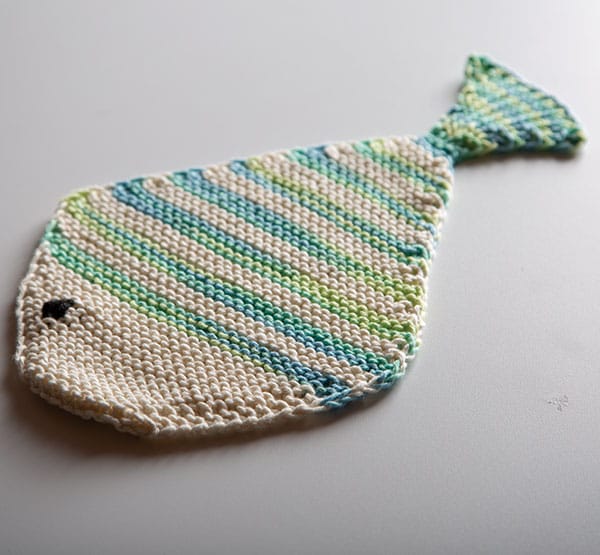 How about a silly shaped cloth to make washing dishes or bathtime more fun? In addition to a baseball, a basketball, a sunflower and a kitty, we have the adorable Something Fishy washcloth! These can be made with the stripes as shown (another great project for using up leftovers) or simply in solid colors for a whole school of playtime fish. This is also a great project to introduce someone to knitting, as the entire project is in garter stitch, with increasing and decreasing to create the shape.
Instead of a shape, maybe just a lacy design is up your alley! As with another recent design, this Butterfly Dishcloth is created with yarn overs, decreases, and wrapped stitches – ideal for knitters looking to improve their lace techniques with a low stakes project.
For those who like to play with unique construction, the Mitered Quarters Dishcloth uses short rows to create this geometric design that mimics the look of mitered squares. Fun to knit and a great jumping off point to larger projects!
To see all of our Free Dishcloth patterns, click HERE. And happy summer crafting!