The situation: the holidays are fast approaching and it's time to get those needles and hooks busy on holiday decorating projects – whether for yourself or for gifts. But you don't want to make the exact same thing over & over again! Our solution: one pattern, two projects with our Twice As Nice collection!
For instance, perhaps one room in your house you'd like to keep with traditional winter decoration while another room you'd like to have more whimsical. Perhaps a couple of pillows will be just what you need, like the Fair Isle and Festive Fox Pillows!
Both pillows are knit the same way – worked in the round from the bottom up in stranded fair isle. The traditional fair isle foxes uses just two colors, while the cute festive foxes uses five and both would be fabulous additions to your home!
Or if you are making a bunch of quick gifts for your friends and family but what if some of them are nice and some are naughty?  Don't leave the naughty ones out – we have perfect projects for you!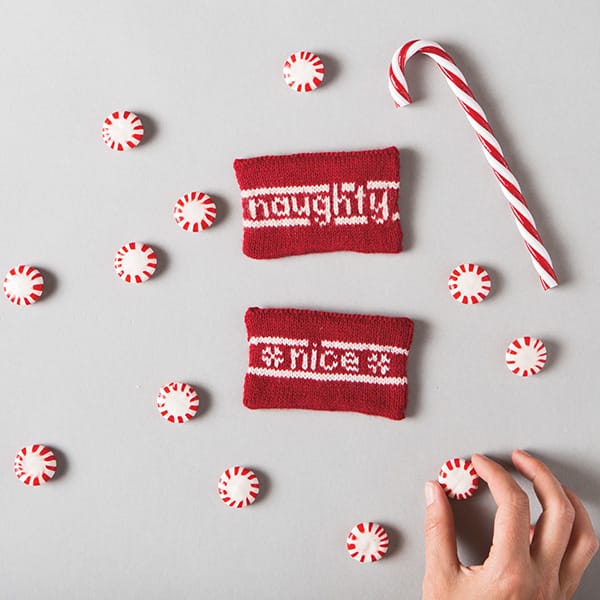 Naughty or Nice Gift Card Holders – show how you really feel when giving out gift cards this year!
Coal vs. Snowpeople  (free download!), a cute snowman or a lump of cowl – what does your giftee deserve this year?
Or if you are doing handknit stocking this year, we have several, including the cover projects Triangle and Reindeer Stockings and as well as the Fair Isle and Geometric Stockings but if you are finding yourself running out of time, try the Main Attraction stockings!
One is knit in standard fair isle in fingering weight yarn, with complex charts featuring hearts, poinsettias and trees while the other uses bulky weight yarn and a simple stripe pattern if you are in a hurry! But both look wonderful and will delight anyone on Christmas morning.
Twice As Nice is available as a book and an eBook and all patterns are available to download on their own. We hope these projects will inspire you to have a happy yarny holiday!