Have you ever knit a garment in just 4 days? That's what the Olive Knits annual 4-day KAL aims to do over the 4th of July weekend! Hosted by Marie Greene of Olive Knits and featuring a new design by her each year, this is the 7th year of knitters working on the same pattern to knit themselves a garment in just 4 days. The 4-day KAL begins June 30th, and you can learn more about the KAL on OliveKnits.com.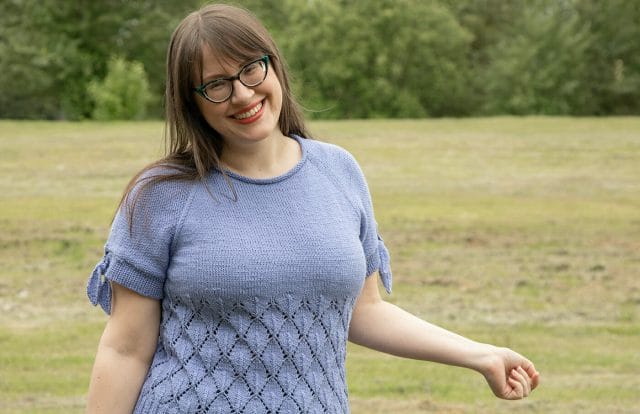 This year's pattern, the Lemon Spritz Tee, is the perfect summer knit because you'll be able to wear it as soon as it's off your needles. The pattern is available exclusively through OliveKnits.com, and it's a sport-weight, raglan tee with lace details on the body and adorable ties on the sleeves. We might be biased, but we think Comfy Sport is the best choice for the KAL!
KP Team member Jen participates in the 4-day KAL almost every year, and she got a head start this year to show you all what the pattern would look like in Comfy Sport! Comfy Sport is one of the most affordable yarns recommended in the pattern, and the largest size of the Lemon Spritz Tee can be knit in Comfy Sport for under $50. Plus, Comfy Sport comes in 30 gorgeous colors, so you can easily find your favorite shade, and its blend of 75% cotton and 25% acrylic is cool to wear and easy to care for. We all know how great cotton is to wear when it's hot out, and the hint of acrylic in the blend adds some elasticity that makes it more comfortable to knit with and helps garments hold their shape. Jen chose the colorway Hydrangea for her top, and it's shown here on Andi with zero ease through the bust.
Pick out your Comfy Sport and find out how to participate on OliveKnits.com!