November is almost here! And that means that there's a new catalog in the works. In the spirit of cooler weather and cozier knits, the next cover is a tiny fiber village! I spent the past two winters in a tiny town in rural Vermont enjoying deep snow, icy ponds and farm houses blanketed with snow so this season I couldn't resist recreating some of those memories with soft, cozy fiber.
We loved the tree and house from the cover so much that we made free patterns for them! The Dwell House is knit in our Palette yarn and is stretched over a foam form to give it nice crisp edges. The trees on the cover photo were knit in Palette as well, but we reknit them in Stroll Glimmer for the pattern and named them Tinsel Trees for the lovely sparkle. They look like they've been touched by frost!
When we're doing photography for the catalog, my favorite shots tend to be the most elaborate to set up with lots of wires, pins and dangling things to get everything right where they're supposed to be. For this particular cover there were so many layers! First there was white paper, then some boxes to make the hills, then a layer of white felt, then a bag full of luscious Bare Gloss Roving topped by the teeny tiny village.The pond is a handful of different blue yarns held together and wound into a flat swirl. It even looks icey! I always love getting a glimpse into what happens behind the scenes at photoshoots so I thought I'd share a photo from ours! Here's Amy getting ready to take a test photo with everything set up and ready to go…
And then there's all the time spent knitting up trees and felting super simple wee sheep too! The sheep are so tiny (the size of my thumb nail) that it was hard to not poke myself in the finger with those sharp felting needles. It was fun watching the little diorama take shape over the weeks as I added all the pieces together…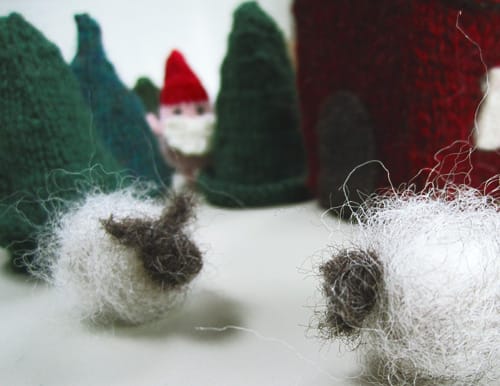 It took a bit of shifting things around on my desk before the shoot to get a feel for how everything would look together. We needed a few more trees at the last minute to round out the forest!
And of course I HAD to add in the naked gnome! Anna Hrachovec knit this alternative version of her Tiny Gnome from her Teeny-Tiny Mochimochi book for Stacey and he was just the perfect size to be trotting about in the little knit woods on my desk while I had it set up before and after the shoot.