Way back when I first started knitting toys, I was always disappointed in my embroidery skills, especially when it came to their eyes.  For instance, about 6 years ago, I made a couple of the Mochimochi Knitted Grass guys by Anna Hrachovec.
While I like them, they just didn't quite have that cute look I love with knitted and crochet toys.  Their eyes are uneven and no matter how much I tried, I could not get them to come out right. They just look all wonky. 
Then I discovered safety eyes!  Not only did they save me from my unsuccessful attempts at embroidery, they gave my next Grass Guy a little sparkle in the eye that just made him so much more adorable.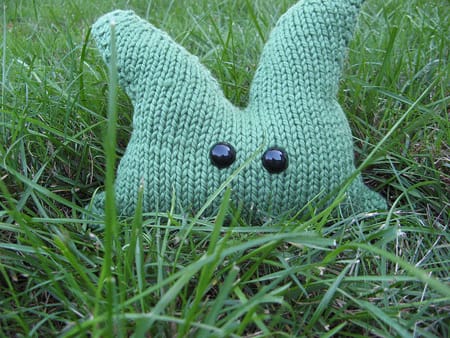 Obviously, I really like this pattern – I think I've made a half dozen Grass Guys and it pretty much kickstarted my love affair with Mochimochiland patterns. It's free too!
After this discovery I started using safety eyes with all the toys I make – and now we carry them so it makes it even easier to get the ones I need!
Juggling Cats pattern by Susan Morishita.
Feet Eaters pattern by Anna Hrachovec. 
Frances The Charismatic Monster by Rebecca Danger.
I just love how the safety eyes look on toys!  While I use the plain black ones most of the time, I will switch it up and use the colored ones – they were perfect for my Sasquatch in fact.
So if you are interesting in using safety eyes for your next toy project, check out our helpful video on how to install them (with a couple of my toys making cameo appearances!)
And here's a direct link to items in this blog post:
Knitted Grass by Anna Hrachovec
Juggling Cats by Susan Morishita

Frances The Charismatic Monster by Rebecca Danger

Fuzzy Yeti & Sasquatch by Nina Isaacson
Update: One thing I meant to mention above – while the name Safety Eyes implies it would be safe for all ages, you need to be very careful with giving toys with safety eyes to children younger than about 3.  It doesn't happen often, but the eyes can break and create a choking hazard, especially if you have a particluarly rough and tumble young one.  So most toy designers (as does Knit Picks) recommend that you embroider eyes on baby toys rather than using the safety eyes – keep those for the older children (or yourself!).