Wondering how the Knit Picks staff is faring with their New Year's Resolutions now that a quarter of the year has passed? I was too, since, statistically speaking those with remaining New Years Resolutions, like myself, have less than a 50% percent chance of completing them. ACK! But I'm a glass-half-full type, so I'm confident there is still time. Let's see how the others have progressed since our last check in.
The Successes
Alison, Director of Knit Picks
Alison Finished the Brooklyn Tweed Corvid sweater she started last March using Wool of the Andes Tweed!

Emily, Graphic Designer
Since Emily wanted to finish more projects before starting others, she's been trying to resist starteritis (which is so hard in spring, for some reason!) and she's been sticking with her resolution. She finished two sweater WIPs that were kicking around from last year, and is working on a cowl WIP.  She did start a new cardigan project, and  de-stashed a bunch of yarn that she realized she would never knit. Unfortunately, being surrounded by incredible new yarns all the time means she has a lot of ideas for new projects inspired by that yarn, but until she can figure out that time machine, she has a limited amount of time to make them. Emily is still working on finding that balance!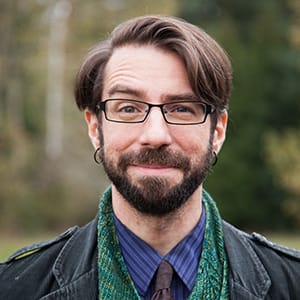 Daniel, Administrative Assistant
Daniel is soooo close to finishing his sweater "just needs blocking and buttons." However, this friendly feline thinks it's perfectly finished.
Stacey, Outreach Director
Stacey worked on her Napali Cardigan for a while…but then got distracted. She had a couple of skeins of Hawthorne Sport in Rose City in her stash and decided what she really wanted to do was make another Ms Marigold to wear this spring and summer! So that's what she's been working on – in her words, "Still a sweater like my resolution, just a different one."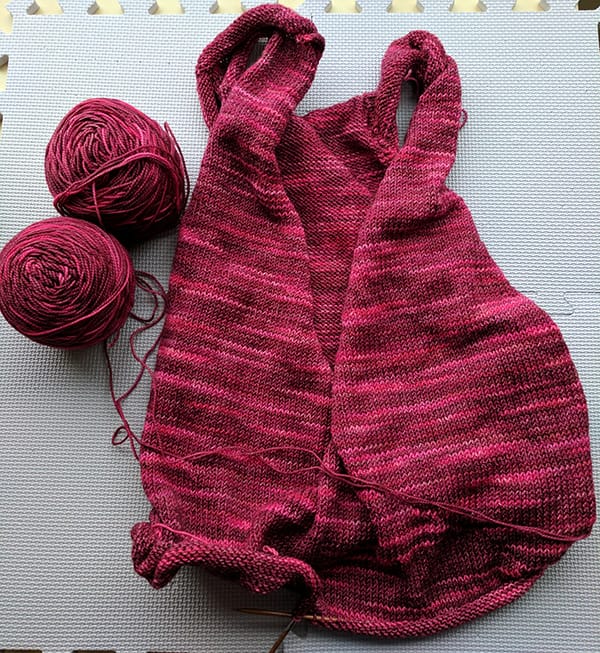 …The Year isn't over yet!

Hannah, Catalog Director
As much as she'd love to say that she's now a brioche Queen, she hasn't made any progress since January. Instead, she whipped up a sweater and three pairs of socks, she definitely hasn't been idle! However, now that it's already April (how did THAT happen?!) She is ready to buckle down and actually make a few forays into brioche. With that in mind, this brioche DVD might be just the ticket!  Especially if you are visual learner, like Hannah, and being able to see each step in the process will be so helpful.
Jennifer, Marketing Director
Finally picked her patterns! Deciding she wants to make the Tuff Granny Throw  and Rainbow Crochet Blankie, both designed by our very own Stacey. Now that is some crafty love.
Heidi, Art Director
Even the best of intentions go awry at times! While I wouldn't consider it a defeat Heidi's New Year's crafty resolutions took a turn as her fingers have a mind of their own and were just insisting on working on color gradient shawls instead. She knit a Find Your Fade  Shawl , like most of the knitting community, and just finished the lovely mystery knit-a-long Snowmelt Shawl by Helen Stewart. Her next project will most likely be another color fade shawl, knit in our lovely Hawthorne yarn. We'll give her a pass on the sweater making this time.
Alexis, Merchandise Planner
Like Hannah, April came too quickly. I did make some progress with the quick can foods making pickled red onions, but haven't made any progress on the blanket or my crochet skills.  But I did finish up a scarf in Tuff Puff. Does that count?