What I love about Fair Isle sweaters is that they are just so classic. When it was time to design a new colorwork sweater, I took a lot of inspiration from those traditional patterns. But, with modern fashion being a little more sensitive to fit and shape, I added some details that really brought it up to date.
The result is the Dogwood Blossoms sweater.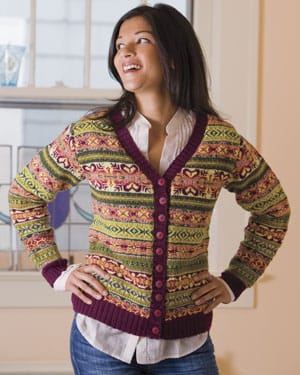 This kit is written for seven sizes, with finished chest measurements from 32 to 48 inches. The kit will make a cardigan or v-neck pullover that features a longer body and sleeves and modern sleeve-cap shaping.
The patterning echoes traditional Fair Isle motifs in an inspired palette of Blue/Brown or Purple/Green.
I particularly like the floral motifs – they're just enough to be recognizeable, but not so over the top as to be 'a flowered sweater', and not so traditional as to look like snowflakes. It's like being halfway between Spring and Winter – right when the Dogwood blooms. Overall, the pattern is a mix of subtle motifs with vibrant colors – just what the doctor ordered for a chilly winter's day.
What do you think of the sweater?  We'd love to know!