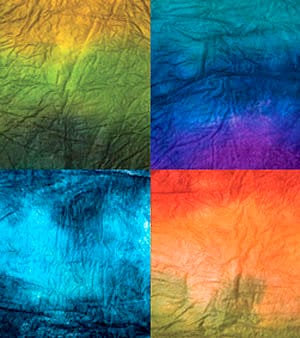 These mesmorizingly gorgeous silk hankies from Hanks in the Hood are irrisistable. You don't have to be a hand-spinner to enjoy their beauty. You can actually knit directly from the hankies. 
Look at how Jenny explored the surprisingly satisfying knitting technique. I have my own little contribution to make to the process.
Homemade sugar scrub! The real challenge with knitting with silk hankies is that the silk snags on every tiny little dry patch on your hands. I've actually enjoyed having the silk encouraging me to take better care of my hands. The combination of oil and sugar softens and smooths my hands beautifully. Just for fun, I searched under "sugar scrub" in Pinterest and I hit the motherlode! The first was the collection of three decadent scrubs above.
Or, Lemon!
Or, Coffee!
Can you imagine using coconut oil? It would smell so lovely.
There is a hidden benefit of sugar scrubs. They make fantastic gifts! All you need is a nice container because everything else is probably sitting around in your cupboard. 
All need to do to make unique gifts is dress up the container a bit and you are ready to go! I bought four little jars at the grocery store so I am completely prepared. Bob always takes a bottle of wine when we go to someone's home for dinner. I'm looking forward to being able to take along a hostess gift that I know will be appreciated.