For the month of January, we're offering 20% off Shine, our super-soft, fabulously durable, 60% Pima Cotton and 40% Modal® natural beech wood fiber blend yarn. Shine is offered in lots of great colors, is available in both sport and worsted weights, and it has that oh so great sheen! Are you excited? Because I'm excited.
Ask anyone at our office, and they'll tell you: I love cotton yarns! Why? Because they are durable, easy to clean, soft, and — perhaps most important?! — do not make me want to itch my face off. (Yes, I'm pretty sensitive to wool.)
What makes Shine in particular so great as a cotton blend yarn is the generous addition of Modal®. Not only does it create a pretty sheen, it helps minimize pilling and stretching. And did I mention you can just throw it in the washing machine? I mean. What more could a busy gal want?
So, with all things Shine in mind, here are some great patterns I'm excited to try:
One of my New Year's resolutions is to knit myself some socks. So the 27 Knots Socks, made with Shine Sport, seem like a really great way to check that off my to-do list.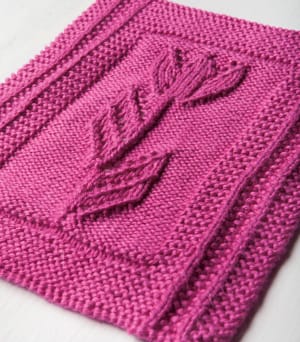 I have touched the Spring Tulip Dishcloth, even held it to my face for a moment, and I can tell you: this is one soft cloth made with Shine Sport. In my ideal world — the world in which I am surrounding by all things dainty and beautiful — I would use this for washing my face at night.
Ok, here are some additional patterns that … while they don't specify using Shine, I think would be a perfect fit for this gem of a yarn:
The Laurelwood Slouchy Beanie is knit in a sport weight yarn, and I think it would be just perfect knit up in Shine. I also just love-love-love a slouchy hat, and this intermediate-level knit seems like a great mix of simple stockinette and a more complex section of leafy lace.
Ok, hear me out. I have a soft spot for American Girl Dolls, and if I can knit up a little something like the Winter Pines Doll Sweater & Hat for my BFF Kit Kitredge in Shine Sport, I will. So there.
Last but not least … another one of my New Year's resolutions is to make my first sweater. Now, I've been thinking a lot about this, and what I want to make is a super comfy, slightly baggy, basic sweater. nothing fancy. So I bring you, the Basic Crewneck Pullover. This pattern suggests a worsted or heavy worsted weight yarn, so here's what I'm thinking: I could just use a skein of Shine Worsted, but … why not hold two colors of Shine Sport together for a fabulous marled look?! (Am I getting too fancy here? Hmm. We'll see.)
The Shine monthly yarn sale ends on 1/31/2019 at 11:59pm PDT.