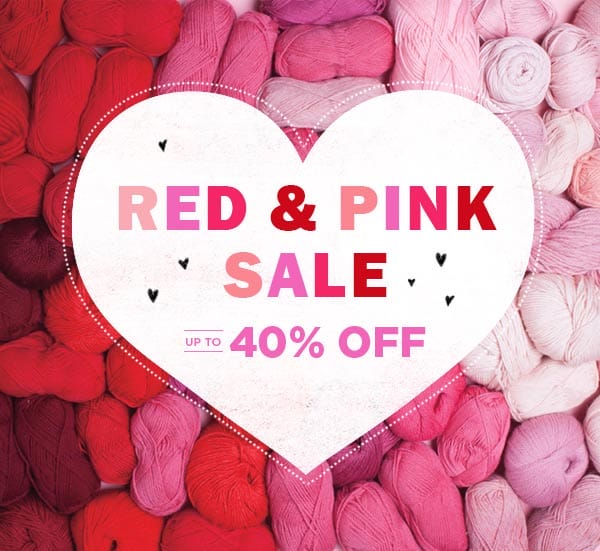 Are you ready for some sweet deals? Our Red & Pink Yarn sale features yarns in lovely shades of pink and red, at prices up to 40% off. With over 200 yarns on sale, there's something sure to suit your fancy, whether you're looking for blush, magenta, brick, or burgundy.
Patterns we love
Wondering what to do with all that red and pink yarn? Here are a few of my favorite projects in these sweet colors:

The Houndstooth Cowl features a timeless and classic pattern stitch in a dramatic red and black color palette. Knit in washable Swish Worsted yarn in Hollyberry.
The Zickzack Dishcloth was the first dishcloth I made, and I just love this pattern! The textured stitches are created with an easy to memorize zigzag repeat. Knit in our fabulous 100% cotton Dishie Yarn in Serrano.
I simply cannot WAIT to cast on this project! The Taken Cardigan is from our Garter Ridge collection, and features – you guessed it – garter stitch! Knit in our gorgeous and super soft Stroll Tonal yarn in Heartfelt.
Red & Pink Yarn Sale ends soon!
Hurry! This sale ends February 8… so you'd better hop on over to KnitPicks.com and start shopping. Sale prices apply to select colors and styles only, but with over 200 yarns on sale there's plenty to choose from!
Save
Save
Save