When I first started knitting with my handspun yarn, I can't tell you how many times I've wished for a magical label marked with yarn weight, recommended needle size, yardage, and washing instructions.  Over time, I've gotten better about documenting my handspun as I create it; when I don't take notes, though, I have to just wing it!
For a recent cross-country trip I decided to give myself a little challenge – I packed nothing but 4 skeins of handspun yarn and an assortment of needle tips and cables.  The four skeins I chose were finished more recently, so I hadn't had time to measure the yardage, weigh them, or even match them up with other yarn for projects.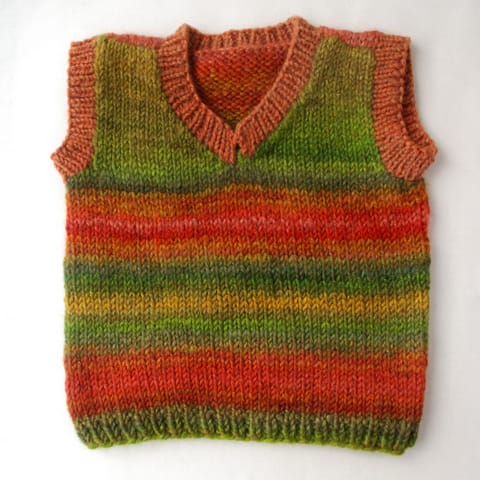 Most hand-dyed roving that I purchase comes in 4oz braids and I usually spin and ply the entire amount, so I was fairly confident that I had a minimum of 100g of each skein to use.  I'd been making a ton of hats already, so I thought I would switch things up and try making some small baby garments.  Full sweaters are a little trickier when you have a limited amount of yarn, so I thought I'd try an assortment of vests in various styles.  No sleeves to mess with, forgiving sizing in the torso, and the potential for a kiddo to wear it for slightly longer as they grow larger.
I often make up patterns as I go, but rarely when I have a limited supply of yarn for the project at hand.  It's one thing to invest a ton of time and planning into something that, if it turns out, you could always order a skein or two more to finish.  It's another thing entirely to make up a pattern and keep changing direction in order to accommodate a finite amount of raw material.  For these little vests, the easiest modifications I could make regarding the remaining amount of yarn were a) to shorten the torso, b) create wider neck and/or arm openings, and c) plan for a split neck or straps instead of a v-neck.  
If you're not feeling confident about creating your own pattern, you can check out Ravelry for a ton of free baby vest patterns to get you started.  If you're a Ravelry member, this link will take you to a search for free baby vest patterns that would work for limited quantites of yarn.
It was a fun challenge overall, and I finished the handspun portions of all four sweaters over the course of my trip.  When I got home, it didn't take long to rummage through the bits and ends in my stash to come up with coordinating edgings for the neck/arm ribbing and applied i-cord edgings.  I used some Wool of the Andes scraps in Navy and Persimmon Heather for two of the vests, some Andes del Campo scraps in Cilantro Heather for one, and the sunset-and-clouds vest used a weird fluffy microfiber novelty yarn that I had leftover from a free-form knitting project from years ago.
Have you worked on any seat-of-your-pants knitting lately?  How did your project turn out, and what challenges did you run into?
Ravelry links for projects: