Congratulations, KP Sweater Class of 2010, you are now sweater knitters! I didn't print up diplomas for you but you have something better than a
ceremonial sheet of paper today. Today you have great sweaters, made
with your own two hands, that actually fit!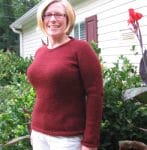 There's just so much beauty on display here; read ahead for a closer look at all of these wonderful projects!
First up are two of our frequent commenters and top students (extra points were awarded for their artful photography!)
Tami worked a gorgeous v-neck out of Swish DK in the Garnet Heather colorway:
The fit on her piece is amazing and the color is so elegant and versatile! It looks really great on her and I am so glad she suffered through the summer heat to get this beautiful shot with coordinating garden flowers.
Derek made a crewneck in beige and ivory:
And I LOVE the stripes on this! They are so artfully arranged and unusual, giving the rustic colors an unexpected graphic punch. This piece looks totally warm and cozy too and I think will bring Derek many years of service.
Both Tami and Derek have already begun their next sweater projects! I'm sure we'll be seeing great things from these two over the course of their sweater-knitting careers.
We have many graduates who took risks and tried things outside of the scope of the class, and I am sure you will be impressed by the awesome stuff they made as well!
Class member Cellogirl, who earned an A++++ for participation, completed not one, but 2 sweaters for the class, and each of them has unusual elements that she engineered from her own giant brain:
A split-neck pullover with cable detailing running up the sleeves. A cable on the top of a sleeve is such a great design touch and really personalizes a sweater.
She also took a converstation about vertical stripes that we had early
in the class and ran with it, creating this adorable little swing
jacket:
The torso was knit sideways to create the stripes by switching the row gauge and stitch gauge for that section, then the sleeves were knit plain and joined for the yoke by picking up sts along the selvedge edge of the tosro in the correct ratio. I am really amazed and my mind is reeling right now with possibilities for my next cardigan project! I especially love that the stripes are worked in a variegated yarn–it has a lot of visual interest but does not overwhelm the piece in the slightest.
Finally, in honor of Elizabeth Zimmerman's birthday (at least that was MY assumption) she began a tomten using the same vertical striping technique:
Which, in true overacheiver fashion, is nearly complete! Wow! Extra Credit!
Class member Anna also paid tribute to Elizabeth Zimmerman and worked along with us up to the yoke of her sweater
And then used EZ's seamless set-in sleeve from Knitting Workshop on the yoke. Not only is this one of my absolute favorite ways to work sleeves, Anna also did such a lovely job on the details of this sweater, with the turned hems and the delicate lace panel which runs up the front and then integrates into the neckline so beautifully. This looks like a real heirloom piece which will elicit shocked cries of "You MADE that?" for years to come.
Kate, one of our earliest registrants, finished her first sweater in the class timeframe, and it looks great: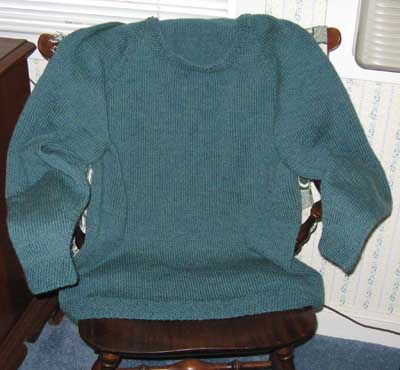 Worked out of tidepool heather, this is going to be keeping Kate warm for a good long time! I love the shaping on the sleeves and the nice, roomy scoopneck. Kate is now signing her emails "Sweater Knitter," and it is a title she clearly earned and should brandish about with some impunity from now on.
Linda (poodelchick) was kind enough to share some progress shots with us. This one shows her first attempt with her design:
Her sketch shows a cropped pullover with dramatic horuglass shaping, but after working the shaping, she decided it was coming out a bit TOO dramatic. Linda did a very brave thing and started over (it usually takes me much longer than that to work through the denial!!) and shows that she is now getting exactly what she wanted: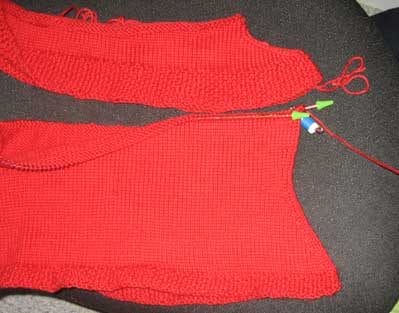 Now that I have seen her sketch and her newest progress I am really excited to see how this piece turns out when complete; I think it's going to be a real show-stopper.
And last but not least,Tara, one of the most enthusiastic memebers of our class, shares progress from her sweater that she is working from the top down:
I'm really liking all the cool details in here and hope that she can tell us more about it in the comments!
Well everyone, it's been a great class and I know I learned a lot, but more importantly! I got to knit a sweater for myself as well and that is a pretty excellent perk of being a knitting teacher!
I worked on the collar even though it was HOT this week, and I'm glad I did, I now have a warm cozy sweater with a turtlenck and CUTE BUTTONS!!!!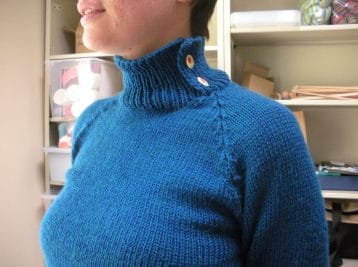 to wear when the weather gets crisp this fall.I'm thrilled with the fit, the color, everything, and know that it will get a ton of wear.
Thanks for the good times everyone! The sweater class will reamin on the blog here:
So that old students and new ones as well can refer to the material for future sweater kntiting endeavors! Congratulations graduates! As of today, you will never have to buy a sweater at the mall again! Now go and use your newfound skills to keep the world warm, happy, and ensweatered.