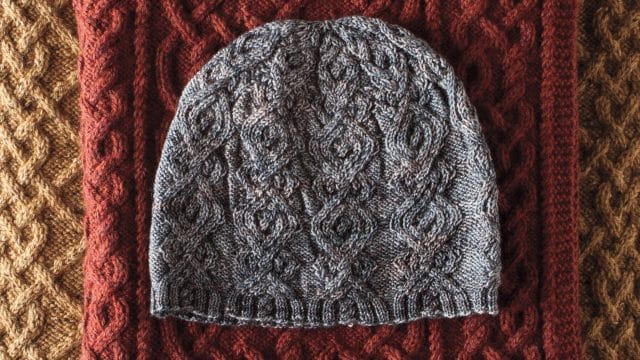 The first step in every knitter's journey is conquering the basics: knitting, purling, casting on and binding off. The next step, of course, is finding ways to make your knits do exactly what you want! That feeling when everything comes together in a project that fits perfectly, and looks just as you'd imagined is every knitter's dream.
In this episode Lee and Hannah answer the Knit Picks Podcast's very first message from the new podcast voicemail. Our caller wanted to know how to customize a hat to fit her perfectly and we were so excited to answer her question. Listen in as we dig deep into what makes knitted hats the best place to learn and refine your skills as well as some tips and tricks for getting that perfect fit.
Next, Stacey and Erica come together together to share how we choose patterns for our printed collections. We print about 18 books a year which means we've got a lot of moving parts happening behind the scenes. Whether you're a designer or someone who really loves a good pattern, we share some great insights into the process in this segment.
Listen to this episode on Apple Podcasts
Have a question? Want us to answer your question on the podcast? Make sure to call in and ask! To leave a voicemail call 360-334-4847 and record your message. THIS NUMBER IS NOT FOR CUSTOMER SERVICE. You can also record a voice memo on your phone and email us that audio file at podcast@knitpicks.com
As always, happy knitting.
Mentioned in this Episode:
Wool of the Andes
Turn a Square Hat by Jared Flood
Knits For Everybody Top Down Hats
Hannah's Sister's Hat
Pinhole Cast On Tutorial
Lee's Hat Designs
Free top-down any-gauge hat patterns by Lee: Scant and Buttonhead
Jeny's Stretchy Bind Off
Casting On for Knitting in the Round (on Circulars)
Double Pointed Needles
Interchangeable Needles
Single Pack 16″ Green Cables (for short tips)
Better Together Marled Collection
Entwined: Celtic Cables Collection
Sojourn: A Knit Lace Collection
Design with us
Call for Submissions
Timestamps:
0:00 – Introduction with Hannah
1:11 – Hannah and Lee say hi
1:43 – Ashley's Voicemail
2:32 – Hannah and Lee answer the voicemail's question
21:22 – Special offer for Podcast Listeners
21:50 – Erica and Stacy give the Behind-the-scenes of designs
37:47 – Credits