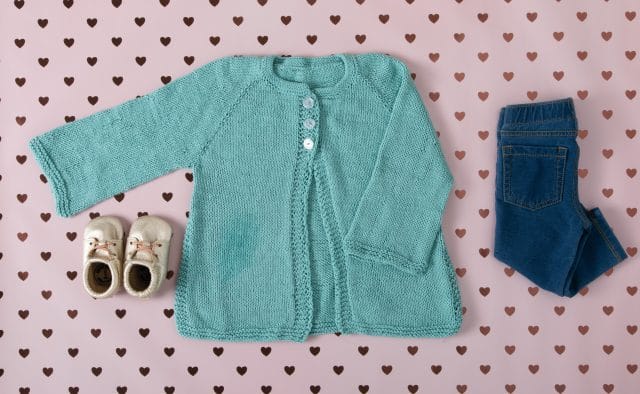 I make no secret of how much I love, love, LOVE tiny babies and their tiny baby clothes. The look on my face and audible squeal I make whenever I see a new human in a grownup looking garment is also kind of a giveaway, too. Imagine my delight when I learned we were planning a baby knits collection for this spring! Hoo-boy. It was some next-level excitement.
First things first—is there anything more heart melting than a little one in a teeny knit cardigan? I think not. This new collection offers several versions of this wardrobe staple to choose from! One such project is the Baby Graphic Cardigan, featuring the classic top down raglan shape, complete with triangular side panels knit in squishy Garter stitch.
Keep those little heads cozy and warm with the Little Lamb Hat, knit in our new oh-so-soft cotton Snuggle Puff yarn.
Even little ones need a few statement pieces, like the ultra-hip Round Yoke Cardigan. With a mini chevron pattern at the neckline, this classic cardigan will have your babe stylin' and profilin'.
A simple textured hat that looks like a bear? SOLD. The Bumpy Bear Hat is a simple and quick knit that looks adorable on kids of all ages. Pair with the XOX Pullover, and watch as the cuteness level goes off the charts.

Whether playing in the sand on a day at the beach or just getting some quality tummy time in, this cotton Romper is the perfect outfit to keep your little ones feeling footloose and fancy free.
Is your little one headed to a formal snack time between nursery school alums? The gender neutral Moreland Pullover fits the bill for when baby needs to look their most adorable & distinguished self.

Kitten toy + playful baby = Instagram fodder for days! The Puppy & Kitten Toys are knit in ultra durable CotLin DK yarn, giving them the ultimate quality: machine washability.

At the end of a long day of self discovery, giggles, and joy-inducing cuteness, nothing sounds better than naptime with your favorite blankie (very relatable). The Triangles Pom-Pom Blanket is modern comfort for today's baby. Sporting a fringe of über-cool faux-fur poms, your favorite little is sure to adore this blanket for years to some.
There you have it. Baby clothes are cute and babies are even cuter*. That's just science, BTW. Want to see all of the precious pieces of Playdate? You can here!
*The opinions expressed here are solely those of Kate Millard. But seriously folks, how cute are babies? Amiright?