Would you believe I've never been to Oregon Flock and Fiber before? It seems like something always got in the way. But, early Saturday morning I joined Alison, her husband Dan, and Hannah to carpool to OFF. 
Look what I found to wear with my latest Sugarbunny project – Moss Circle Scarf Cowl by Jessica Stone (Ravelry link).
I already owned a Sheep shawl pin from Gita Maria that I wear frequently. I could not resist this pin done in some of my favorite colors. I like that it is rather large – a bold statement.
I did buy two braids of hand-dyed roving from Wool Gatherings. But, having recently cleaned up my yarn and fiber stash, I knew that I couldn't justify anything more than a small fiber indulgence.  Whenever I go to a fiber festivals, the true temptations are the animals. It's enough to make me seriously think about keeping a small herd of something.
Alpaca
Jacob Sheep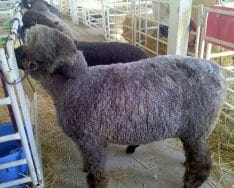 Wooly Sheep
Lamb
Of course, Angora bunnies don't require a barn.
I had such a lovely time at OFF. It is surprisingly large and the setting was delightful. Small buildings surrounding a grassy square with trees providing shade. Next year I should go on my own, take my spinning wheel and spend the day enjoying the companionship of fellow fiber addicts.