Fall is here in full force, and this year in particular, seeking out creature comforts is top of mind for a lot of folks. Whether you're seeking a little luxury for your project queue or are gearing up for a winter baby boom, our latest round of collections (both patterns and yarn) offer myriad opportunities to craft a little comfort into your life.
---
New Fibers
Twill Fingering
Ever since we introduced our beloved Twill yarn back in 2019, we have had our sights set on expanding the lineup of this 100% Fine Superwash Merino wool wardrobe staple. In addition to 5 new colors of our regular worsted weight, we're excited to introduce the newest member of the Twill family— fingering weight! If you're in the market for a yarn with impeccable stitch definition, machine washability, and a touch of luxury, this is the fiber for you.
Kindred
Airy soft with naturally complex colors, Kindred is the perfect blend of Pima cotton and baby alpaca. Kindred features a light, lofty ply that gives the alpaca fibers room to bloom while cotton strands gracefully twine throughout, giving this blend more substantial strength than pure alpaca. The alpaca fibers are dyed while the cotton fibers are not, resulting in a marled effect unique to this luxurious yarn.
This is our new go-to blend for next-to skin soft projects and for knitters who are looking for a wool-free yarn. We love this yarn for bouncy accessories and layering pieces featuring lightweight coziness.
---
New Colors
Swish
Our family of go-to washable wools just got a whole lot brighter! New colors of Swish DK, Worsted, and Bulky are here just in time for the warm & wooly knits season ahead.
---
New Collections
Serendipity: Luxury Knits
Treat yourself by making some beautiful garments and accessories with baby alpaca, kid mohair, mulberry silk, and merino wool blends. This collection of eleven patterns is designed to best use these luxurious yarns, by knitting them into items that are both stunning and cozy! A variety of lace, rib patterns, and simple stockinette and garter stitch are used on tops, sweaters, hats, mitts, cowls, and wraps—there are so many ways to play with these soft and warm fancy fibers!
Peekaboo: Baby Knits
Peekaboo! We see seven adorable patterns for baby knits, ranging from simple basics like slippers, leggings, and hats, to dapper garments and kitty-themed cuties, perfect for gifting!
---
Free Patterns
Wave Pool Beanie
The Wave Pool Beanie is a lovely hat inspired by the beautiful summery blues of the yarn used, Chroma Twist Bulky in Narwhal. The bulky yarn knits up quickly, making it a great pattern to use for gift knitting.
Diamond Rain Shawl
Inspired by the Diamond Rain on Neptune, the Diamond Rain Shawl is an asymmetric triangular shawl knit in sumptuous sport weight Paragon yarn. This stunner looks fabulous in rich jewel tones, but would look equally beautiful knit in a soft neutral shade.
---
New Tools
Oxford Punch Needles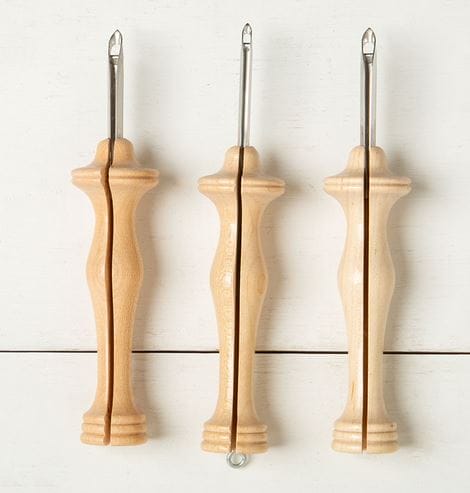 Feeling punchy? Get your hands on one of these beauties from Amy Oxford, maker of Oxford Punch Needles. This simple tool allows you to create uniquely textured home décor projects and accessories. Need some project inspiration? Check out Punched: Techniques and Projects for Modern Punch Needle Art and Modern Punch Needle for tips, tricks, and patterns galore.
Katrinkles – Crafty Tools Made in the USA
Fun? Check. Functional? Check. Incredibly adorable and perfect for gifting? CHECK. Whether you're in holiday-gift-planning mode OR need to replenish your knitter's toolbox, you'll have a bevy of new + cute wooden tools from Katrinkles to choose from!
Exclusive Stitch Markers
Keeping track of stitches never looked so good. Let these sparkling crystals & miniature succulents help get your WIPs Insta-ready, or throw them on a charm bracelet. Or both! You can see the entire lineup of stitch markers here.
That's it for now, friends. Happy crafting!