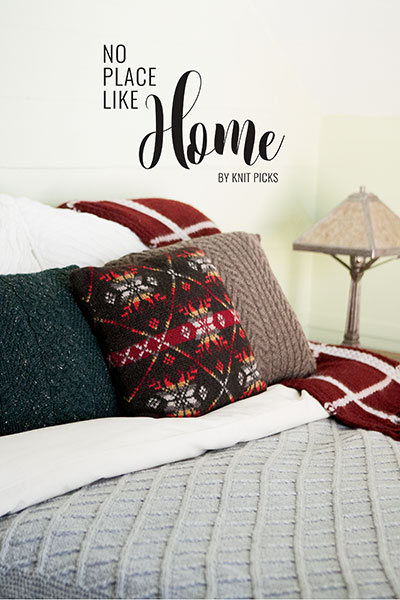 Dorothy was definitely imagining a room full of cozy blankets, plush pillows, and sweet knit home decor when she clicked her ruby shoes together and whispered "There's no place like home!" Decorate your abode with our new No Place Like Home collection, the patterns divided into three distinct styles: Farmhouse Flair, Southwest Style and Lodge Living. There's something for every aesthetic and skill level in this sure-to-be-classic collection.
First up: Farmhouse Flair! This section features a stunning colorwork pillow and cables as far as the eye can see in a distinctly rustic but cheerful color palette. Our inspiration boards included white clapboard walls, neutral couches and light blue paint with plenty of light pouring through white curtains. Knit up all five patterns in this chapter for a complete look or mix-and-match with some of the patterns from the Lodge section for more variety.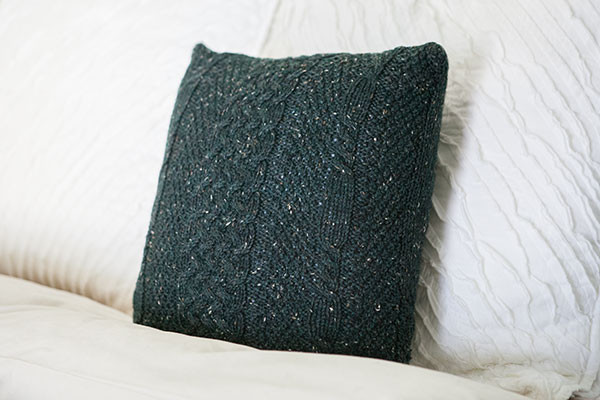 I love the idea of knitting several of the Cozy Cables Pillows in different tweeds and grouping them together in a gradient on a white couch or with a fluffy down duvet. So charming!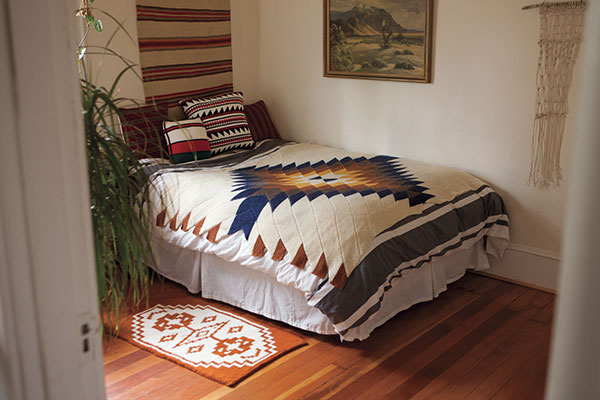 Next, the Southwest Style Chapter has my inner Arizonan clapping her hands with glee! An homage to the beautiful pottery, adobe houses and graphic motifs featured throughout the Southwest region of the United States, this collection fit in perfectly with one of my favorite apartments here in Portland, OR.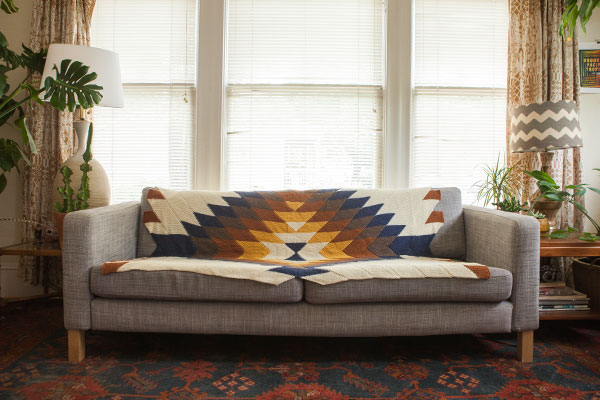 Whether you live in the dry desert or just wish you did, this collection features the stunning Evening Mesa Blanket (shown above) along with two pillows, a small reversible rug and a place mat/table runner set.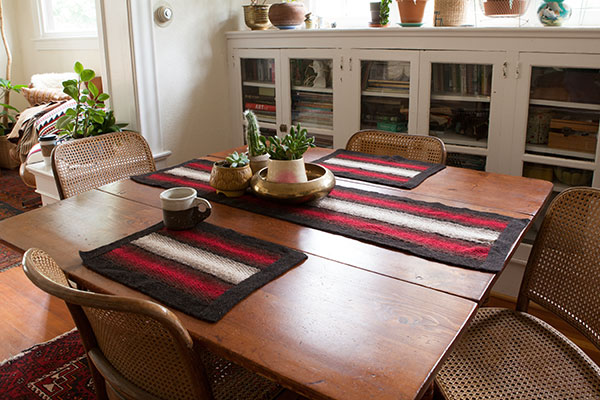 These ombre mats lend a rich texture to any table. Swap out the reds for deep forest greens or knit the whole set up in saturated blues for a truly lovely effect.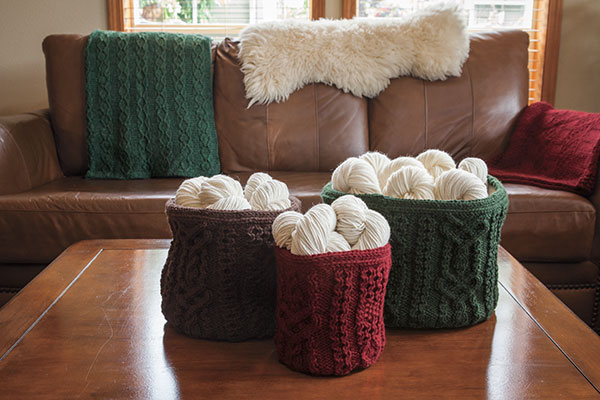 Lastly, the Lodge Living pieces were designed with leather couches, roaring fires, and the smell of cedar in mind. With deeper jewel tones than the Farmhouse chapter, this sections features heavily textured pieces. Cabled baskets to keep your yarn cozy, a super bulky blanket in Tuff Puff and pillows knit in the traditional fisherman's style.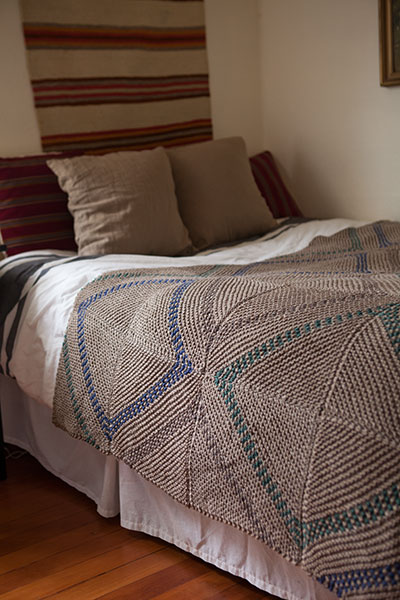 So far, the Modular Dots Afghan has been the most popular pattern in this collection. With sizes ranging from crib to king, you can easily knit this blanket for any room in your house and person on your gift list this holiday season! With such a large, graphic pattern – you can easily change the colors for a completely different feel. I think it would be lovely in a Hudson Bay Blanket palette with a cream background alongside yellow, blue, red and green diamonds running throughout!
Gather your family and friends into a home surrounded by handmade items that turn your house into a haven – a place to feel comfort and love. Grab your knitting needles… it's time to relax and enjoy this place you call home.
Handy Links:
No Place Like Home – print book
No Place Like Home – eBook
All patterns from No Place Like Home
Save