New year, who dis? Just kidding. We know it's you, our beloved blog readers! It's the beginning of a new year, which of course means tending to the often maligned task of committing to a resolution of some sort. We've made it easy on ourselves and made our resolutions knitting/crocheting/sewing/organizing related, so our chances of completion are pretty good. Here's what we have our sights set on for 2019: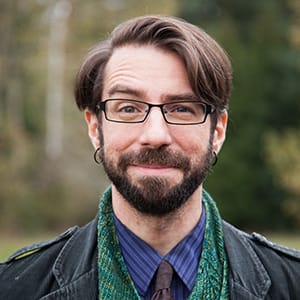 Daniel
I really need more everyday, wearable hats (all the tams!), shawls, and sweaters. I have so many other ideas (Black-dyed Aristo lace! Double knit mitts with Capretta Hand Painted! Woodsmoke sweater in Wool of the Andes! Palette mittens using Knit Like a Latvian! All the tvåändsstickning!) we'll see how my focus holds up. . .
Beyond knitting, I want to experiment more with my new Eversewn sewing machine. I'm planning to at least do some quilted pillow covers, more experiments with quilted ties, mend my favorite jacket, and maybe try making a button up shirt. My main skills goal is to become more familiar with different kinds of fabric and how best to use them.
Hillary
I am determined to knit a sweater this year! I have some of our lovely Biggo yarn in Brass Heather that I set aside months ago to make a sweater. The thought of starting a sweater is daunting, but my wonderful coworkers have assured me that it is totally doable and actually enjoyable!
Hannah
Last year I focused on plain wardrobe staples, this year I'm taking the same idea in a different direction by knitting myself a statement wrap. I've got the Flidais Stole squarely in my sights as my ideal, timeless accessory. Wish me luck!
Stacey
I'd like to take my crochet skills to the next level – I'm confident doing easy projects like granny square blankets, but making garments and accessories that actually fit a human is my next goal!
Alexis
I'm going to be trying my hand at using smaller yarn weights (fingering) by attempting to make socks. Hopefully, with the help of some in-house gurus, I will be slipping and sliding all over my house in hand knit socks by spring. If it goes well, I might try some hand dyeing, too.
Erica
I really want to bring some sort of order to the chaos that is my yarn stash and project list. I guess that means working through the projects I have going currently and not getting distracted by all the shiny new things in our office, but … that's easier said than done!
Kate
I'd like to make my first sweater. I'm thinking something with a silhouette like the Faela, knit in a single color like Color Mist Tidewater. If I'm being completely honest with myself though, I'll probably end up spending more time making cute hats and cat mats for my family's new rescued kitten, Sushi.
Here's hoping 2019 is filled with endless skeins, bottomless cups of tea, and nimble fingers. Happy New Year!