Today I'm really excited to introduce our two newest yarn lines: MoMo Merino and Alux!
MoMo Merino has the distinction of being the biggest yarn in the history of Knit Picks!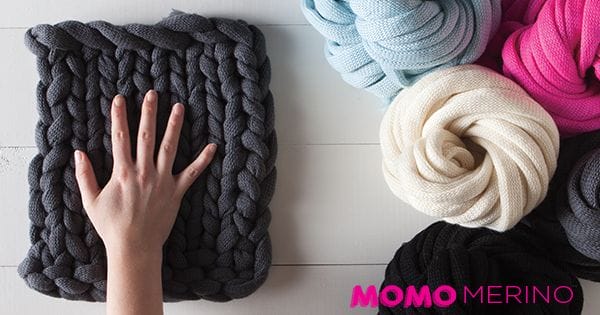 MoMo is pre-knit into a tube and then filled with lofty Merino roving. This creates a super soft Superwash Merino yarn that is perfect for arm knitting!  With each stitch measuring an inch or more, and with 5 cute colors, MoMo can help you craft gorgeous, unique accessories in mere minutes.
We also offer a free MoMo Merino Cowl pattern, written by our very own Stacey to inspire you with this wonderful, snuggly, machine washable monster of a yarn!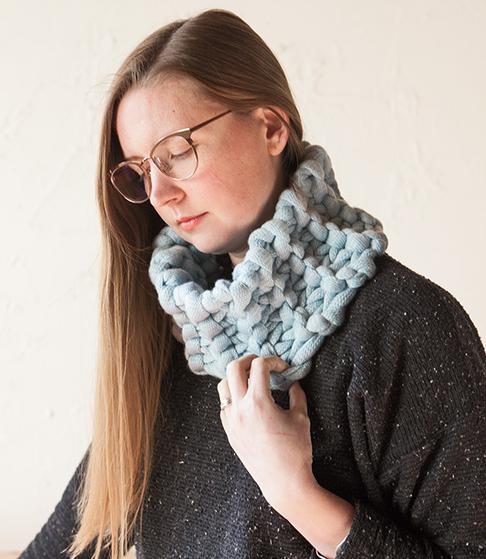 Using only a single hank of this jumbo yarn and Size 50 needles this pattern can be made in under an hour!  This cozy cowl would make a great last minute gift or addition to your own wardrobe so you can look amazing and stay warm in the chilly, early spring weather.
What do you get when you cross the softest baby alpaca with sparkles…?  It's Alux!
Scintillate, shimmer, and bedazzle your way through your next project!  Every color of this unbelievably adorable yarn is threaded through with either gold or silver. A third of Alux's fiber content is pure sparkle, but the rest is the softest baby alpaca, which will make your next knitted accessory or lightweight top truly fabulous!
I've even posted an excellent Alux yarn review (done by Alison!) down below, and I definitely suggest checking it out!