We have a brand new yarn out today!
The Big Cozy (the name always makes me think of one of my favorite movies, The Big Sleep) is a super bulky alpaca/wool blend that is SO SOFT.  I haven't actually worked with super bulky yarns in years so I figured I should play around with it.  I grabbed the largest needles I own (size 13) and a skein of both Marine Heather and Finnley Heather and decided to make a hat!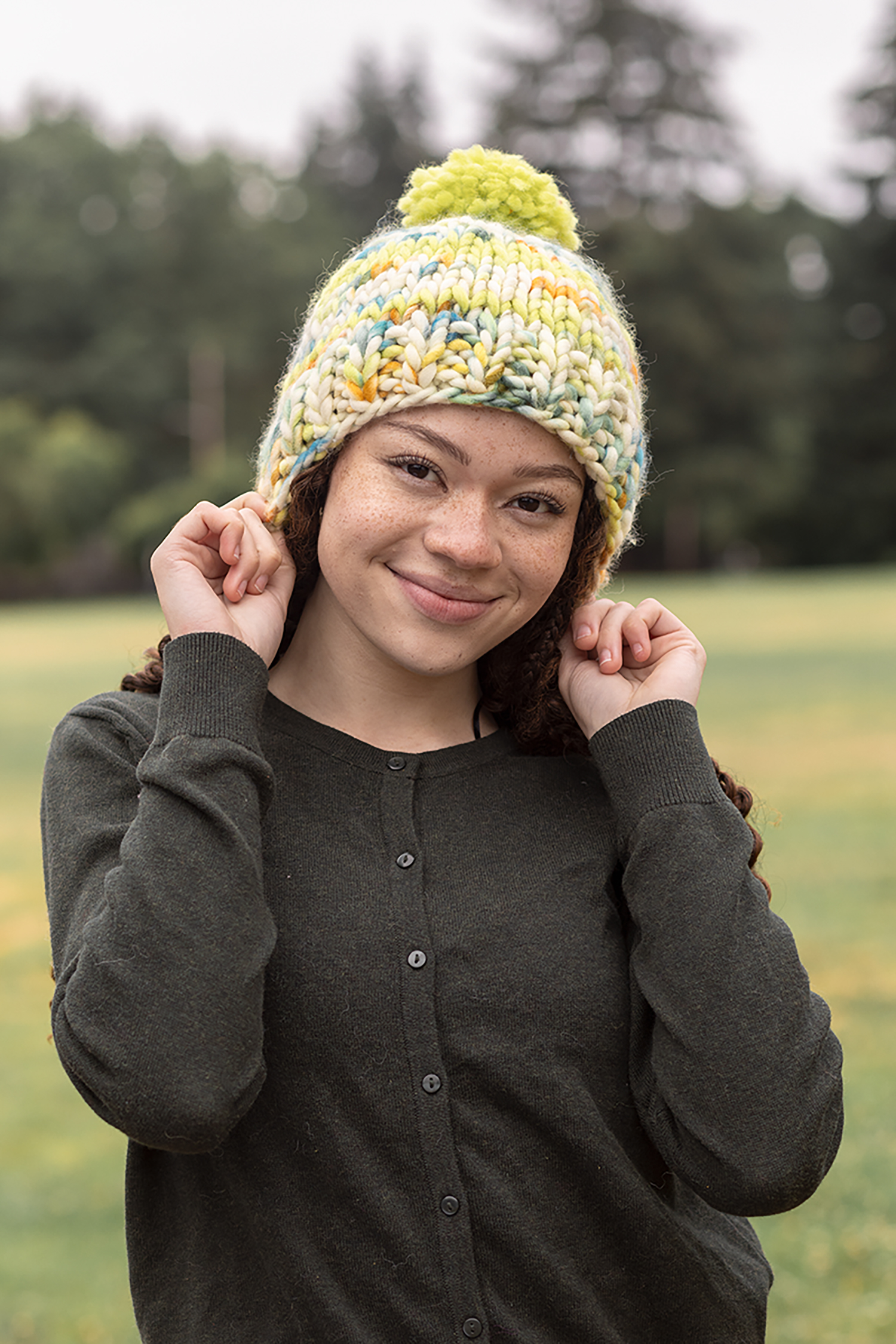 I cast on 42 stitches (because it's the answer to the Ultimate Question of Life, The Universe, and Everything.  Also it worked with my gauge.) and did a little ribbing, a little striping and a pompom.  It took less than 3 hours!  I wrote it up as the Laniferous Cap pattern – and it's free!  It only took 1 skein of the Marine Heather and just a little bit of Finnley Heather.  I didn't have much left over of Marine Heather so if you don't want the stripes, you'll probably want to get another skein of your main color, just to be sure you don't run out!
The fabric with size 13 was so dense, which makes it great for a winter hat – no wind getting through to freeze your ears.  I liked it so much, I ended up making a second one with Garnet Heather and Finnley Heather, this time with an even bigger pompom!
I can't wait to actually wear them!  Unfortunately, we still have summer weather here (90s this weekend!) so it'll be a while.
I really love this yarn – it's so fun to have projects done within hours rather than days.  I've been playing around with our new Jumbo needles and a couple of skeins of The Big Cozy – I love the fabric with the size 50, even if it's hard to get used knitting with such huge needles!
Now that I've gotten back into using big needles/hooks and super bulky yarns, tell me some of your favorite projects – I need to make more!