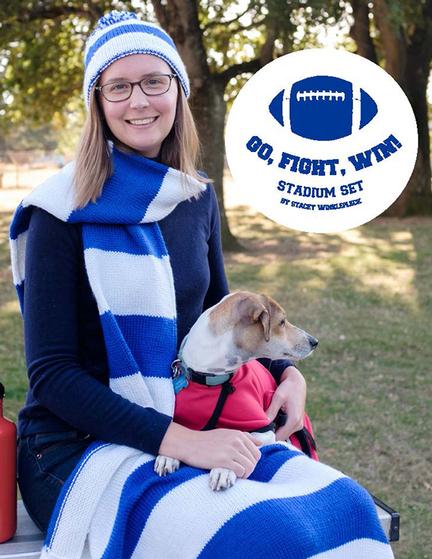 Embrace the glories of sport season with these fun basic knits! Stacey has written Go! Fight! Win!, which includes instructions for a lap blanket, hat with a pompom and a big cozy scarf.  With wide stripes that are easily customizeable with your favorite team's colors, you can root and cheer in style with Mighty Stitch Worsted! Read on for some of our favorite colorways…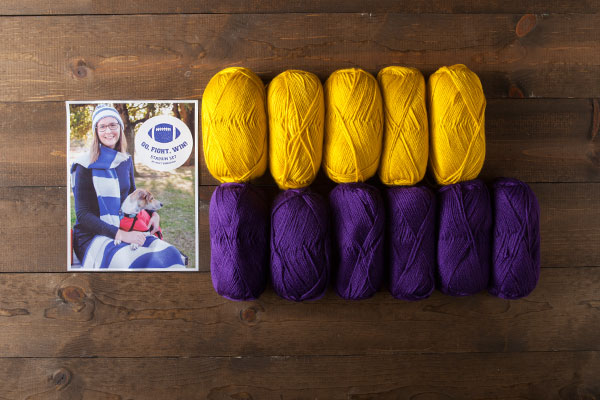 Our offices are located in the lovely Pacific Northwest which means we definitely had to pay homage to some of our local teams. Above, we've put together a kit featuring Eggplant and Canary in the First Round kit for the rich purple and golden yellow of the UW Huskies. Purple and gold aren't just for college football, though. If the LA Lakers or the Minnesota Vikings are more your style, make sure to snap up this First Round colorway!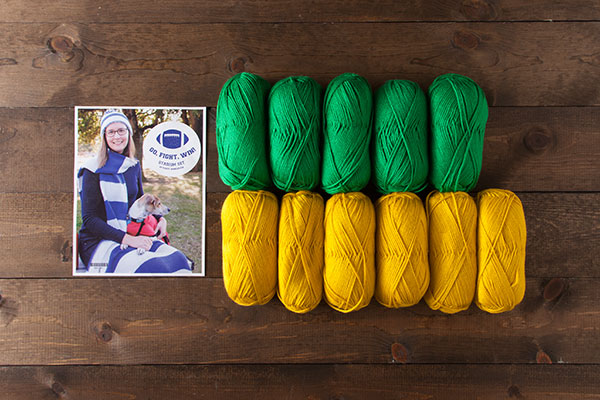 We also made sure to include the Oregon Ducks colors in a kit with Macaw and Canary Mighty Stitch. Not a Ducks fan? This colorway works for the Green Bay Packers and the Oakland Athletics as well! In this Half Time colorway, and all of the colorways we've put together, you'll have enough yarn knit all three of the included (downloadable) patterns.
As with all of our pattern kits, when you buy one of these pre-selected colorways you'll save 20%! From high school colors all the way up to the big leagues, this pattern is so versatile that it's perfect for all the sports you love. While we've only kit three more colorways than what we've shown here, we know there are so many team color combinations out there so be sure to let us know in the comments if there are more colorways you'd love to see!