We love luxurious Capretta! What is not to love? The superbly soft cashmere yarn is perfect for special projects, small accessories or if you really want to treat yourself, a sweater or cute cardi. Now it is perfect for socks because Capretta now comes in SUPERWASH!
Capretta is Capra's fingering weight sibling and is a blend of 80% Fine Merino/10% Cashmere/10% Nylon. The addition of nylon makes it ideal for super soft socks but it's also well suited for fine-gauge knits like scarves, cowls, mitts and even lightweight yet warm cardigans. It is now available in 15 new, sophisticated colors. In honor of the new color palette, I put together some fall color inspiration below!
Library Color Palette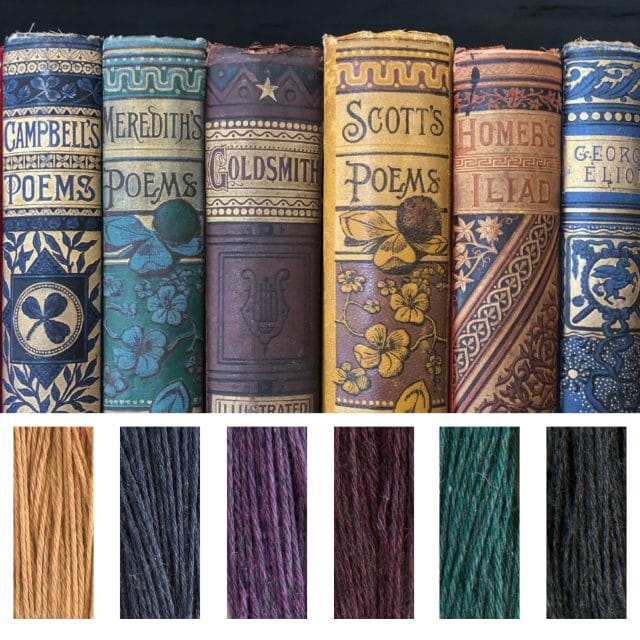 This gorgeous shot of well loved books had the perfect mix of rich jewel tones for some fall knitting. Mix these colors together for a pair of fun, striped Spring Street Socks! They will be so cozy you will want to wear them well into Winter.
Dried Flowers
This photo is for monochromatic lovers! The colors create a cozy yet ethereal mood. For a sweater you can pair with any color, knit up a Caddington Wrap to ward off the morning chill or to lounge during lazy Autumn mornings.
Fall Blooms
Dark, dramatic colors were pulled from this gorgeous photo! They would be perfect for lux accessories such as the Leaf Wreath Cowl.
Frosty Morning

Here in the Pacific Northwest, our frosty mornings have quite the bite to them. Bundle up in the Adelaida Hat with the softest Merino/Cashmere blend yarn.
Pressed Petals
There is something romantic about a book full of pressed flower petals. This color palette would look great with any Autumn outfit, adding a warmth or pop of color too! The Isabel Cowl is a basic cowl made enchanting with a deceptively simple motif that would feel amazing knit in Capretta.
Autumn arrangements
Blush pinks, creams and stark white make this palette so dreamy. When paired with Emerald Green, this icy palette is perfect for Fall. The lacy pattern of the Lotus Lace Cardigan would be so lovely in these colors.
I hope these Autumn color palettes have inspired you to grab some of the new superwash Capretta!