Bouquets are beautiful, but they wilt and wither away after a few days. Chocolate lasts minutes before the box is empty and cards are everywhere during the holidays. My favorite gifts to give/receive are ones that last a little longer and create new experiences with their use. Yarn for a new project, a set of brand new needles  or a collection of patterns to browse and work on over the next year will be lasting memories just as the act of making a present for someone brings them to mind constantly.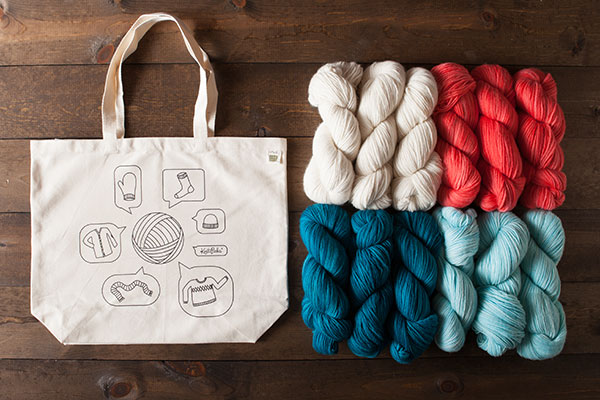 My first pick is one of our Beginner Blanket Kits! Six different Preciosa color palettes (plus a cute tote) go with our beginner friendly, swoon-worthy knit and crochet blanket patterns. My mom has always been a crafty lady and she's been picking up her hooks and needles more often lately so I wanted something that was easy to tackle, fairly mindless (perfect accompaniment  for BBC miniseries binge watching sessions) and would result in something absolutely gorgeous that she would be proud to have on display around the house after she finished. These kits definitely fit the bill and she can choose to do either the knit or crochet version!
The finished blankets are so soft and lush, our whole office is totally in love with them and it doesn't hurt that kits give you a bit of a discount on the project cost! This is the ultimate intersection of easy project that results in a gorgeous blanket that will last for years.
We just added a wonderfully cute set of bags, mugs and ceramic canisters to the site from a series called Entwined. Printed with black ink on natural colored sturdy canvas, these pouches look classic and are absolutely functional and hard-wearing. The canisters are perfect for holding stitch markers, yarn ends or even tea bags, perfect for organizing every mom's craft room or desk. Who wouldn't love sipping tea or coffee from such a lovely mug while crafting the day away? I especially love the large Entwined Hamper, perfect for storing your stash and pretty enough to have out next to the couch 24/7.
Mother's day is once a year, but our appreciation for these wonderful ladies is timeless. A few thoughtful presents will keep her needles (or hooks) busy and leave her with heirloom quality projects to remind her of you the other 364 days of the year.