Like Alison, I've been working on some baby things!  Two of my closest friends are having a baby in May & I'm so excited for them.  I wrote about my decision making back in January and wanted to be sure I shared the final result with you.
I was originally planning on making a log cabin style blanket with University of Oregon colors – yellow, green, white & black – since we all grew up in Eugene & are big U of O fans.  I ended up ordering Swish Worsted because I liked those colors the best & got started!
But then after a few rounds, I realized how mind numbingly dull it was to knit – and slow! I had just finished up my Bullseye Blanket and was really in the mood to crochet something else.  And then when I saw Alison's gorgeous Ripple Blanket, I thought that might be a great project instead.  I happened to mentioned it on Twitter and Linda Permann had an even better suggestion – Lyn's Round Ripple Baby Afghan!
Once I looked at the projects (especially Linda's) I was in love!  I got to work immediately & had it all done within 10 days – it's a very fun, very easy pattern. It starts in the center, so no foundation chain of a million stitches, which really was swayed my decision! I loved how many of the projects had black separating out the other colors so I used that technique in mine too.  It was a very enjoyable project and I plan on using it whenever I find myself in need of a gift.
But I wasn't done yet!  I spotted the Duck Feet pattern on Knitty and thought that would be perfect to go along with my UofO theme since we are the Ducks!
These were actually a lot more complicated than I thought they would be – definitely not a beginner's pattern – but I really like how they turned out!  I had planned on using Comfy Fingering in Sweet Potato for these but my skein somehow disappeared from my stash!  Since it was getting too late to order another skein, I ended up using some leftover yarn from a pair of socks & it worked out nicely.  I learned a lot from these – Turkish cast-on, Jenny's Surprisingly Stretchy Bind – Off and got to dust off some techniques I hadn't used in a while, such as Applied I-cord. 
I didn't have time to make the Duck Hat I had planned but I did make a simple hat to go along with the rest of the set. I just made up the pattern and added a little green stripe.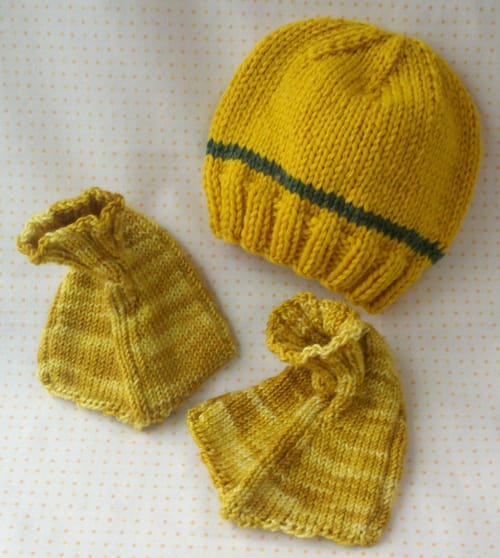 I'm really pleased with how all came out & think my friends will like it as well!