New Stroll Minis
Stroll Tonal Mini Packs are here, and they are kind of our favorite thing right now. You could say these baby hanks are serving as a sort of *unofficial* litmus test for future micro-skein production here at Knit Picks. Featuring the same Stroll Tonal colors as our regular 100g hank versions, each pack contains a total of 100g of color curated joy, with 5 individual 20g hanks of varying shades. Perfect for small colorwork projects, gifting, or just sampling the many flavors of Stroll, we know you're gonna love these babies.
Dapper Collection

Add a dash of panache to your everyday wardrobe with the timeless pieces of our Dapper collection. Comprised of cardigans, vests, pullovers, hats, and even a few ties, these modern day knits prove that anyone can dress to the nines.
Two of the sweaters included in this collection are the Soren Pullover and the Breckin Pullover, pictured here top to bottom. If you're curious what Simply Wool looks like in action, the Soren does a wonderful job of showcasing the naturally occurring hues of this eco-wool line. And let's not overlook the amazing tweedy bits in the Breckin, provided by Wool of the Andes Tweed yarn. I love good tweedy bits!
A tie befitting any M.C. Escher fan, the Belvedere Tie offers a visually enticing foray into the world of double knitting.
Come Home to Crochet Collection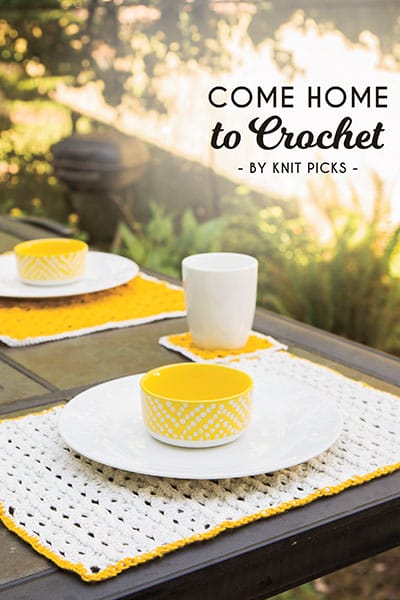 Calling all crocheters! Our new collection, Come Home to Crochet, will have your hooks jumping to create these 7 lovely home decor pieces. Succumb to the folksy yet modern charm of these accent pieces that will have your guests asking "WHERE did you get that?"
Add a energetic burst of color to your living space with this cheerful Mandala inspired pillow! Two panels are worked back and forth in a slip stitch pattern and then sewn together. The beautiful mandala is crocheted in joined rounds then seamed onto one side of the pillow.
Here is a closeup of the blossom-like motif pattern in the Serenity Afghan. The dappling of color given by the yarn, Color Mist, adds to a lighthearted charm to this truly soft + comforting piece.
Love a quick and functional project with endless opportunities for color combinations? The Darling Dinner Set checks every box on that list, and looks adorable to boot. Makes a perfect housewarming gift, too!
New. FREE. Patterns!
Beinn Hat
This simple hat features just a skosh of cables, resulting in a staggered rib that creates an interesting fabric on both the right and wrong side. Knit bottom up, in the round, the generous depth allows lots of room to fold up the brim or wear it a tad slouchy. A wonderfully stretchy and warming hat for colder temperatures. We can't quite remember what winter feels like, but we know it's coming, and with this hat, we will be ready.
Roguery Cowl
Ready your knits & purls and get to work on the cozy + stylish Roguery Cowl, an accessory that will work its way into your daily attire. Knit in decadent 100% baby Alpaca Andean Treasure yarn, you'll thank yourself for this sumptuous garment day after day.
SALE!
20% off Interchangeable Needle (& Hook) Sets
Sometimes, you just need to take the plunge and unabashedly treat yourself. Or better yet, insinuate to a loved one that you need to be treated. *wink* If you've been eyeing a new set of interchangeable needles or crochet hooks, then wait no more. All interchangeable sets are 20% off through 9/4/18. Go forth and treat thyself.