The very first photo in Knitting With the Color Guys takes me back to when I was learning to spin and knit. In the late 1980s, Glorious Knitting revolutionized the way knitters approached design and color. In the new photo, Kaffe has a project in progress draped over his knees with a basket on the floor overflowing with a variety of yarns. It makes me smile!
Back in the day, I remember gathering what seemed like an overwhelming number of yarns to try my hand at one of the sweaters from Glorious Knitting. What a liberating and inspiring experience! Who knew that dozens of colors make a stunning garment?  This riot of color approach continues to influence Kaffe's designs as well as his creative partner, Brandon.
In Knitting With the Color Guys, Kaffe and Brandon have segmented their designs by color emotions. The first section is entitled Soft Tones with projects featuring the delicate, restrained end of the color palette. 
In Soft Tones you will find a Multi-Striped Stole, a Triangle Baby Blanket, Zigzag Fingerless Gloves (shown above), a Mossy Stole and an Opal Dot Scarf. My favorite – the Checkerboard Ensemble with leg warmers, fingerless mitts and a hat. The ensemble is ideal for new colorwork knitters because it uses subtle gradations of color (much like Fair Isle designs) to make an impressive pattern even though there is only a simple repeat of two colors in each round.  
The second section – Singing Colors – is filled with the wide awake, exciting colors of childhood. The Zigzag Throw (shown above) uses chunky yarn for a quick knit. The thick comfort with the dramatic tassles at each corner make it a delightful blend of sophistication and whimsy.
The Shadowbox Cushions have a strong, three dimensional visual effect. And, you can pair them up with the Shadowbox Throw (shown below). 
Back in the 1970s, Kaffe used a bold, kilim rug design to knit large coats and small scale sleeveless sweaters. For those projects Kaffe used up to fifty colors! With modern yarns that have long sequences of color changes, like Chroma, the pineapple motif is just as dramatic but much easier to achieve. 
I love the way Kaffe and Brandon's designs lend themselves so artfully to home decor. Fun to knit and absolutely spectacular when finished. The Zizag Cushion and Triangle Cushion are prime examples. The Multistripe Cushion looks a bit like an Amish quilt with stripes working concentrically out from the center.
My favorite project from the Singing Colors section is the Broken Stripe Scarf (shown below). If you were to just read the pattern you may think, "Yikes, that sounds like something that will be busy and boring! Fourteen colors of stripes." But, you would be so wrong! After all, it's Kaffe! The king of lots and lots and lots of colors looking very good. The key is the narrow broken stripes. So easy and so beautiful!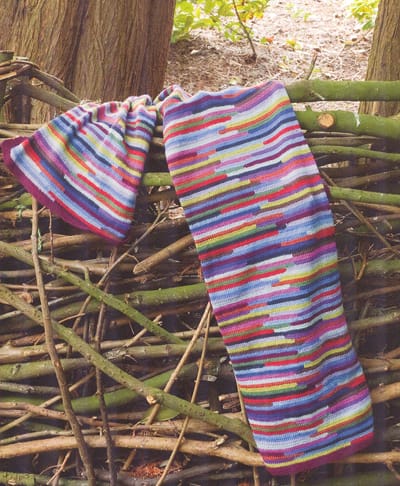 The third section of the book is called Moody Hues. Here you will find colors of old tapestries or ethnic wraps that have seen a lot of wear, resulting in faded, stonewashed textures. 
The X-Factor Blanket (shown above) is based on a silk patchwork quilt made in the 1800s. It would be fun to make the smaller squares of diagonal stripes during the summer months and then join them together as the weather turns cold. 
More cushions – the Dotty Cushion is cute because each dot has its own shape and size. The Stone Triangles Cushion is a larger scale version of the Triangles Cushion in Section Two. This time Kaffe used thicker yarn and larger needles. The result is a cushion with a bolder look. The Earthy ZigZag Cushion is another example of the magic of enlarging a charted design by knitting it with thicker yarns on larger needles. Think country home vs. city apartment. 
The Trapezoid Throw (shown below) and Cushion Set is Kaffe's favorite design in the book for sheer ease of knitting and great results. The cushion is knit with finer yarn and smaller needles than the throw. Still easy and still dramatic.
The idea of throws knit in panels still appeals to me. Similar to the Trapezoid Throw, the Amish Blanket is based on an Amish quilt that is nothing but large panels of diagonal stripes. Once the weather begins to get chilly, sew together your strips and you will be toasty warm all winter. 
The Colorscape Stripe Scarf (shown below) uses two yarns with long color sequences for a simply gorgeous scarf that makes even a beginning knitter shine. 
Section Four is entitled Rich Shades. Kaffe has always loved dark colorways. He finds the deeper tones very flattering to wear so this chapter focuses on clothing.
The Red Circle Stole (shown below) uses two subtly changing sock yarns in red tones and blue tones. The large red circles are mystically dramatic on the dark blue background.
The Dark Dot Scarf is makes Fair Isle easy by breaking up the two color rounds with plain, narrow stripes. It's a contemporary twist on a classic style. The Diagonal Colorscape Scarves (shown below) are the equivalent of knitters' candy. You won't be able to stop making one right after the other. Again, Kaffe takes advantage of long color sequence yarns, like Chroma, to let you mindlessly knit these narrow scarves one right after another. 
Kaffe's Trapezoid Blanket kickstarted Brandon's ideas  for the Accordian Stole. The stole is smaller in scale and is made with fewer colors.
The Ridged Scarf (shown below) is a smoldering design of Brandon's. Using bands of reverse stockinette for one tonal color and regular stockinette in another tonal colorway. Knitting up this scarf will be just the beginning, as the play of colors is addictive. 
After the pastel throw earlier in the book, using dark, rich colors in the Half Circle Scarf is inspiring. Inspiring enough to make you consider making the Half Circle Stole. Oh, it looks like something I would wear all winter long.
There is something soothing, yet lively, about a meandering wavy line. The design for the Wiggle Scarf and Legwarmers (shown below) could easily be used with a thicker yarn for a big stole or bedspread. Or, maybe a sweater?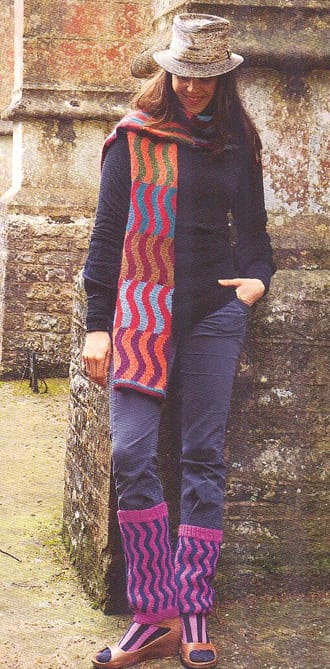 I cannot tell you how pleased I am with Knitting With The Color Guys. It's like finding an attic full of treasures that have been polished up to thrill another generation of knitters.