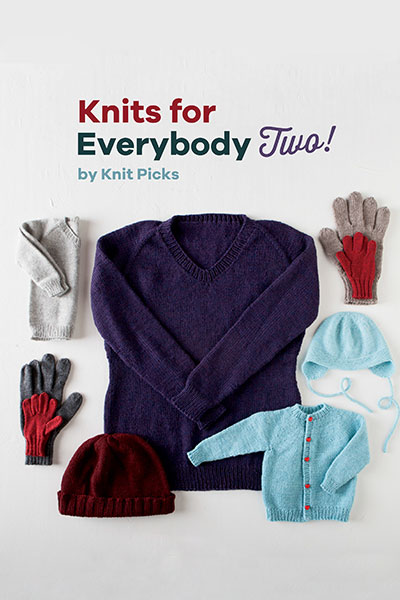 Y'all, Knits for Everybody Two! is here and it is excellent. Basic sweaters, hats and mittens that fit a huge range of sizes (think teeny babies to big fellas) with beginner-friendly silhouettes. Not only is the collection solid, but each pattern was photographed on the lovely people who work here! Read on for some cute behind-the-scenes shots and outtakes from our new favorite collection.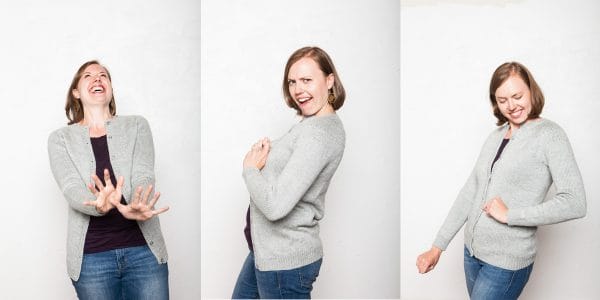 Emily (our graphic design superstar!) absolutely rocks the worsted weight Knits for Everybody Cardigan in these photos! This shoot was so much fun and Emily always brings her A-game and amazing sense of humor to the set. A well-fitting sweater makes a world of difference and judging from her sweet, sweet moves in these photos these sweaters fit perfectly.
It usually takes a while for people to warm up in front of the camera and the last few photos of each session are always the best! After we get all those nervous grins and stiff arms out of the way everyone relaxed and got a little silly. These basic garments and accessories are designed to fit so well that you forget you're even wearing them! Daniel had some mad mitten moves with the worsted weight version of the Knits for Everybody Gloves pattern and I loved how the V-Neck Sweaters worked with my long arms and torso. The neck depth would be perfect with either a button-up shirt underneath or with a simple tee as I did here.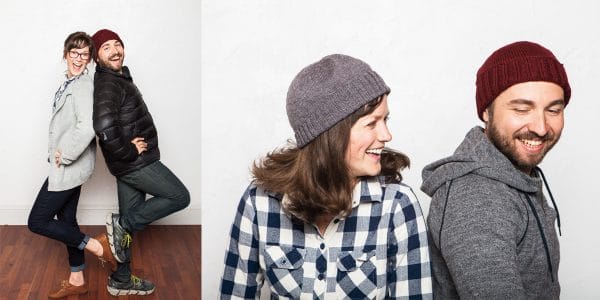 Heidi and Victor, our office power couple were so funny together! The Top Down Hats are unisex (as are all the patterns in this collection) and make the perfect his/hers or family presents! The same sweater that Emily was sporting in the first images is worn again by Heidi in this photo. A totally different fit that looks great and feels wonderful.
We have fun with each collection around the office but Knits for Everybody Two! definitely occupies an especially soft spot in our hearts. Stay tuned for more behind the scenes posts for upcoming collections!