Have you seen our newest dishcloths book, Kitchen Kaleidoscope? Dishcloths are a perfect way to learn new techniques on a small scale, use up cotton leftovers, and make fun and useful gifts!
This collection includes 52 patterns in assorted difficulty levels and styles, and they are all sorted by the rainbow!
There are plenty of simple, textured designs, for newer knitters or anyone looking for something more mindless. Beaded Ribs is just knits and purls, but has a really cool textured effect!
If you want to learn lace knitting, the Diamond Lace pattern is a good introduction to charted lace:
Likewise, if you're wanting to practice cable knitting, Strawberry Twist would be a great way to do that:
Or maybe a dishcloth is a good way to practice working with two yarn colors, with a simple colorwork pattern like Pebbly:
Whether your stash is full of solids or multi-colored cottons, there are patterns perfect for every kind of yarn colorway in this colorful collection!
A stitch pattern like this one on the Ridged Feather design is made more interesting by using a tonal or multi-colored yarn: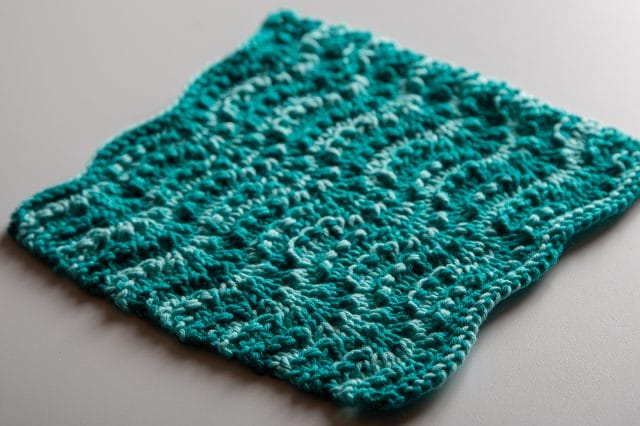 The Woven Polka Dots pattern will allow a multi to pop off a neutral background—this would look even more playful with a many-colored yarn for the dots, like the Route 66 or Friendship Bracelet colors of Dishie Multi.
The Mitered Quarters pattern would be the perfect way to use up some small-yardage leftovers remaining from other dishcloth projects:
And for more advanced knitters, things can get more complicated if that's what you want in a dishcloth, like the beautiful Candleberry pattern, with lace worked in the round:
Kitchen Kaleidoscope is available as a print book or eBook, and you can also check out the individual patterns for download on the website here.