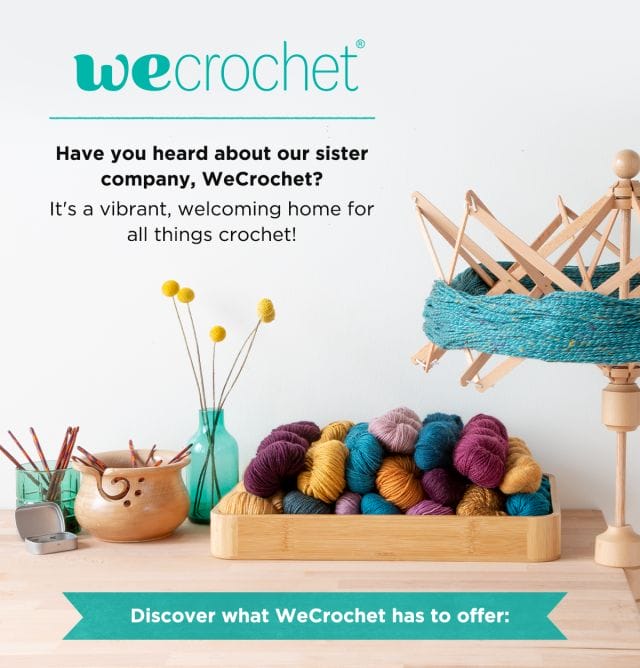 Have you heard about our sister company, WeCrochet? It's a vibrant, welcoming home for all things crochet!
Discover what WeCrochet has to offer:
Free Crochet Patterns:
At WeCrochet, you'll find a great selection of stunning crochet patterns, from sweaters to shawls to blankets, and more. Many of them are free crochet patterns (including everything shown in the image above!)
WeCrochet Magazine:
WeCrochet publishes a quarterly magazine featuring patterns, interviews, education, and inspiration.
Tacia said in a review of WeCrochet Magazine Issue 1: "I received my copy in the mail and was completely blown away. I've never really been a big fan of crochet magazines because they all seem to have the same layout and never seemed fresh and innovative. WeCrochet hit it out the park with this magazine. The pictures are so vibrant and there are a ton of crochet patterns in the magazine that also includes a very detail schematic rendering. I would HIGHLY recommend this magazine to a fellow maker. "
WeCrochet Podcast:
Listen to the WeCrochet Podcast for all things crochet from the people behind WeCrochet. Featuring interviews, crochet life hacks, live yarn squishing, talk about patterns, design, techniques—all that and more! Will there be crochet shenanigans? Tune in to find out.
Subscribe via Apple Podcasts, Spotify, or wherever you get your podcasts.
Special Offer for Knit Picks Insiders Only:
Special offer: For a limited time get the first two issues (a $30 value) of WeCrochet Magazine for FREE with your order of $35 or more at crochet.com. Just add both magazines to your WeCrochet cart and use the code LUVCROCHET at checkout.
What are you waiting for? Go visit WeCrochet!