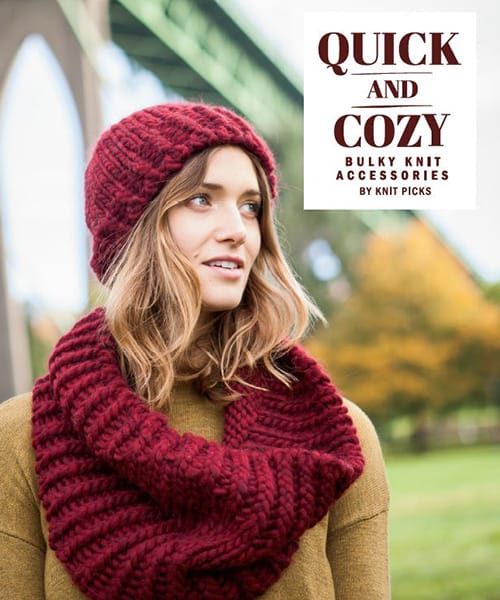 What do you do when you need a project that's both quick to knit and super cozy to wear? Reach for our new collection, Quick and Cozy: Bulky Knit Accessories, of course! Each pattern consists of a set of a hat and a coordinating item that uses bulky weight or heavier yarn on large needles.
My favorite is the cover set, the Peak Hat and Cowl. Knit in our gorgeous super bulky yarn Big Cozy, it features a tubular cast on and a simple but graphic twisted rib pattern. The alpaca and wool blend make this yarn so soft yet warm and dense. I also love the rich depth of Garnet Heather- it's just a perfect cool burgundy.

If you're looking for cables, the Boulevardier Cape and Hat set (pictured at top) is just the ticket. The stylish cape has a gorgeous center cable panel with seed stitch details for a beautiful texture, and the hat features the same cables but all over.  The Capacious Hat and Scarf set (at bottom), with its easy but effective slipped cross pattern, is great for those who want a simpler cabled look in our super bulky Tuff Puff yarn.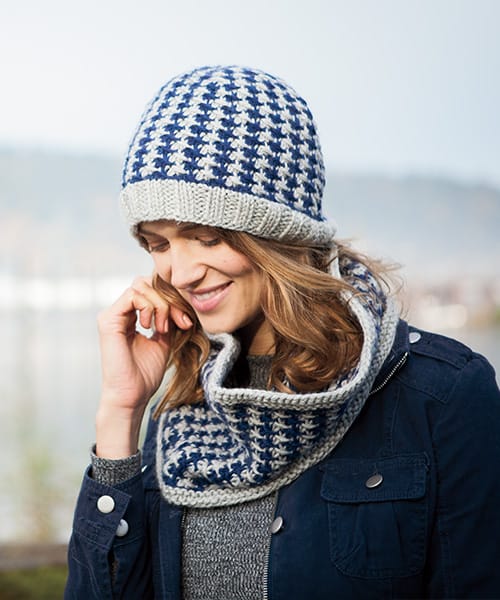 Fans of slipped stitch patterns will love the Mirzam Cowl and Hat set. It uses two colors of Wool of the Andes Superwash Bulky to create a striking effect with the star stitch pattern. The overall look can be very subtle if two similar colors are used, or bold if using colors with a high contrast. We chose Solstice Heather and Dove Heather for a more graphic look.

Speaking of graphic, a gradient is an easy way to make a eye-catching look and use up smaller bits of yarn at the same time. Two sets use this approach: the Gradient Hat and Scarf (bottom photo) and the Fog Bank Hat and Mittens (top photo).
Finally, the Reverb Hat and and Infinity Scarf (botttom photo) and the Aberdeen Hat and Scarf (top photo) sets both use elementary stitches combined with beautifully heathered yarns for classic good looks. I especially like the Aberdeen Hat's folded brim- it keeps your ears extra warm!
These eight pattern sets are a great addition to any library of bulky knits. When you need a project, fast, look no further than Quick and Cozy!