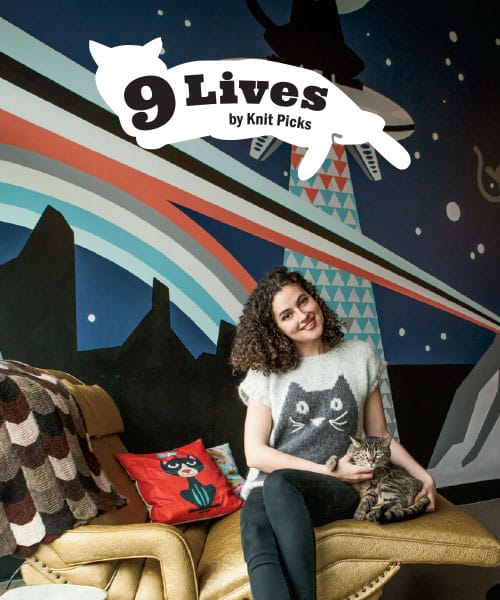 Have you seen our most adorable collection yet? 9 Lives is a celebration of all things furry and feline, with some of the most delightful patterns for garments and accessories. Perfect for the modern cat enthusiast LoansCashNetUSA, you can knit a kitty-themed wardrobe that will keep you cozy and cute all at once! I've highlighted a few of my favorite projects below.
The Meow-ccasin Slippers, knit in Bare Swish Bulky, are a super squishy garter stitch with a sweet cat face and ears. This one-skein project is knit in several directions for a very nearly seamless pair of slippers. It'd be fun to make a pair that matches your cat-perhaps tan and black stripes for a tabby cat?
Kitties on My Lap Blanket is also a modular garter stitch project. It's knitted with increases and decreases forming the cat ears, and changing colors to represent different cats. A face can be embroidered on all or just a few of the cat faces for an endearing look.
The cover project, the Professor Meow Sweater, is a cap-sleeve top with a wise-looking cat ready to "help" with anything- because we all know that cats love helping! Knit flat in Wonderfluff and seamed, with the sleeves and ribbed edging knit in the round, this project features intarsia to create the kitty.
If you're feeling a little feline yourself, make a pair of the Kitty Mitties! Designed to look like cat paws, each mitten has pink paw pads and contrasting fur colors. Sized for babies through adults, everyone can have a pair!
And finally, if you want to whip up a quick project, the Catpuccino Cup Cozies are just the ticket. They're knit with a bit of easy intarsia to create the cat face and finished with embroidered eyes, nose, and whiskers. Choose from different cats (gray, black and white, Siamese, or orange tabby) to personalize it.
I'm so delighted by this collection and can't wait to make a few things to show off my love of cats. I think they'll be a purrfect addition to my knitting wardrobe!