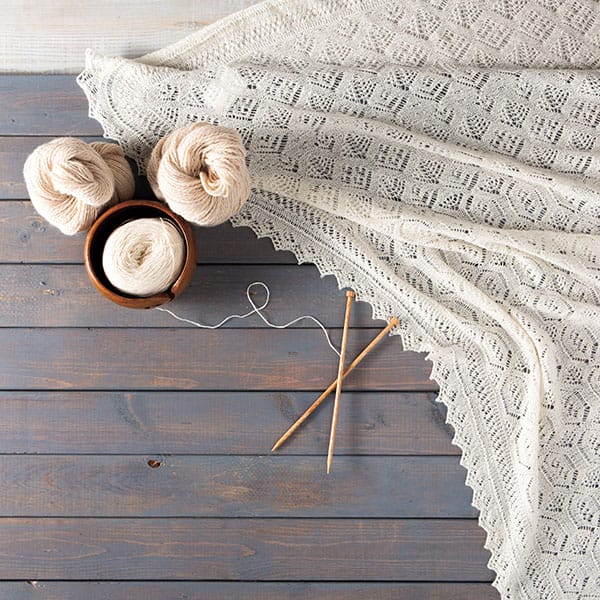 Have you found yourself looking at a gorgeous lace shawl and thinking: "Oh, I could never do that!" Well, we think that anyone can knit lace – even the most intricate of shawls is simply a series of knit, purls, increases, and decreases. The real key to expert lace knitting is the right materials – and patience. While lace can be incorporated into projects, there are some things to keep in mind if you are going with the big guns – intricate lace shawls and wraps.
Yarn
While lace can be knit on any weight of yarn, if you're drawn to the classic shawls and wraps, you'll want to choose a lighter weight yarn. As the name implies, lace weight yarns are commonly used to get an airy fabric.
Fingering weight is also used quite frequently. This creates a denser, warmer project while retaining a lightweight look and feel.
The key factor in choosing a yarn for your lace project is actually the fiber content. You will want to choose a yarn that can stand up to a great deal of stretching and blocking, which is why animal fibers and blends are the natural choice as they have natural elasticity. Wool, alpaca, mohair, and cashmere are wonderful choices. Silk, our favorite for shawls, is incredibly strong with a beautiful sheen and warmth, perfect for super fine shawls that will wear well and look stunning. Plant fibers, such as cotton and linen, are more difficult to use for intricate lace, as these yarns do not lend themselves well to aggressive blocking, but work well for summer weight projects and less intricate lace motifs.
Want to read more? We have some yarn tips here, including some of our favorites for lace.
Needles
Another important tool in your lace arsenal is your needles. Since you'll be doing a lot of stitch manipulation, you'll want to make sure you have a pointy tip to get in and under those stitches. In addition, you'll want to make sure the surface is not too grabby – you want those stitches to slide smoothly across the needles.
We are fond of using our nickel needles for lace projects because they feature sharp tips and slick surfaces, perfect for speedy, precise stitches. Our fixed circular needles come in small sizes (perfect for lace weight yarns) and a variety of lengths, while our interchangeable needles (starting at size US 4) work for fingering or heavier weight yarns and are available in a myriad of lengths and materials. You can also use our interchangeable needle cables to create a "lifeline" in your knitting – a place to hold your stitches just in case you need to rip back to correct a mistake (the horror!). Our tutorial How To Use A Lifeline goes into more detail on this project-saving technique!
Tools
There are some other tools that are good to have on hand when working on a large lace project!
Chart Keeper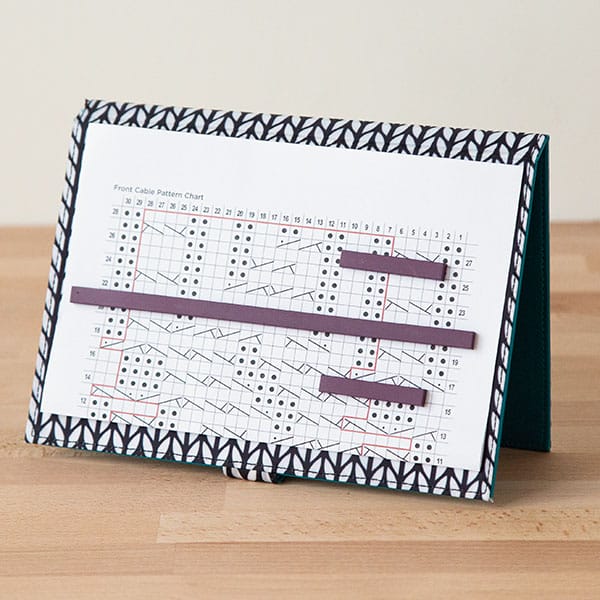 Most complex lace patterns are charted rather than written out row by row – this makes it easier to see the full pattern as you work and also keeps the pattern page count to a minimum! But it's easy to lose your place in these charts, with the multiple symbols and rows, which is why we highly recommend our Chart Keeper, which has magnetic bars you can use on the magnetic backboard to block off rows you've completed or mark your place when you need to set it down.
If you're new to charts, we have some tutorials to get you started!
Blocking tools
As discussed here, lace projects need a few tools to open up that beautiful lace; specifically, you'll need blocking mats and pins. Blocking wires and wool wash are useful tools as well. A full tutorial on blocking can be found here.
Now you're ready to begin! Check out our large section of lace books and patterns and choose your project. Our tutorials on basic lace stitch patterns, and knitting a nupp, as well as our How To Knit Lace classes are here to help you along the way!