This past weekend, Knit Picks did something we've never done before – we had a booth at the super popular Vogue Knitting Live in Seattle! It was so wonderful to meet so many nice folks and be able to show off our yarn & needles in person. Attendees were able to touch all of our yarns (we brought one of each!) at our yarn tasting or try out one our needles. They were also able to see some of our amazing yarn colors in person and purchase skeins of Hawthorne, Stroll, Wonderfluff and more. We had a blast chatting with everyone (some of us even lost our voices) and can't wait to do it again (psst – NYC – January 12-14 2018). We thought we'd share a bit of our time there!
Hannah manned the yarn tasting area much of the time and loved talking about all of our yarns – and pushing Wonderfluff every chance she got.
A bit of our booth (it was so big, it was hard to get a complete shot of it), with Daniel & Hannah ready to chat with everyone about Stroll Gradient, Wonderfluff and of course Hawthorne! We brought a bunch of our knit and crochet project samples with us to show off our yarns too.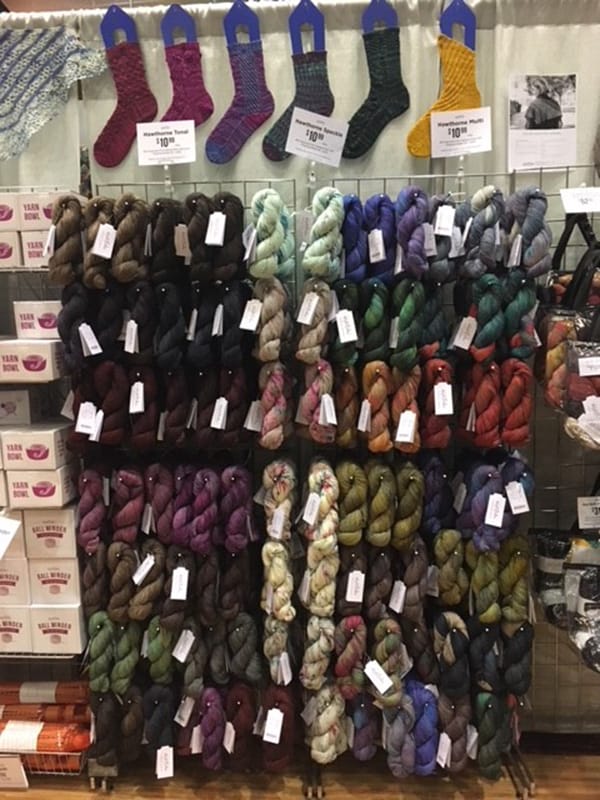 More Hawthorne! Customers loved being able to pick out multi skein projects (such as Find Your Fade or Color Shifting Shawl) in person – we also had some of our Yarn Value Packs there too!
STROLL! Along with Stroll Gradient, we brought along multiple colors of Stroll Tonal and Stroll Hand Paint for people to see in person.
To be honest, my favorite thing at the show was getting to meet so many of the amazing designers I've been working with for years! Here I am with Allison Griffith, who I finally got to meet after working with her for years. She's in so many of our collections – and keep an eye out for that beautiful cabled sweater she's wearing – it'll be available soon!
We had such a wonderful time, we're counting down the days until the next one! If you can't join us in NYC, keep an eye on this blog for info on any upcoming shows  – we might just be in your town in 2018!