I'm the mom of two boys who go back to school on Wednesday, and can I tell you: I am soooo over back-to-school shopping! Done… finished… please don't make me buy another pencil or pair of socks. The thought of going back to One. More. Store. is enough to bring tears to my eyes. But yarn? Oh, I could do some yarn shopping for SURE! And lucky for me – and you! – there's a little flash sale happening right now.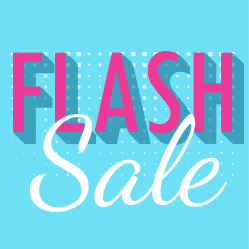 Actually, our Flash Sale is not so little! Right now if you spend $100 or more on our site, you'll get $20 off! Use promo code FLASH20 at checkout to save! There are of course some restrictions -(downloadable merchandise doesn't count towards the $100 threshold, and you can't apply the discount to prior purchases or backorders), but otherwise you can shop and save! You can even combine sale prices with the promo code for extra-low prices. There is some bad news, though: our Flash Sale ends tonight at 11:59 PT.
So… whatever shall you buy?
---
Hawthorne Tonal
I can tell you what's been on my wishlist: Hawthorne Tonal yarn. Specifically, the Dark Mood Hawthorne Value Pack, which I am going to use to make a What the Fade Shawl during Andrea Mowry's Mystery Knit Along on Ravelry. We'll have the  pattern for sale on Knit Picks once she's released it, but if you'd like to join me in the Mystery KAL, you can get all the info on Ravelry.
---
Rosewood Yarn Bowls
I've been eyeing these Rosewood yarn bowls since we received them. They're just the thing to keep my yarn bowls from rolling around on the floor and picking up lint and dog hair! The regular price is already a steal – just $19.99, so the extra savings with promo code FLASH20 are just icing on the cake! Now, should I buy the single color or two-tone…. ?
---
Knit Picks Crochet Hooks
One of my New Year's Resolutions was to learn to crochet. Unfortunately, I have not yet done so. However, I'm thinking my chances of actually learning to crochet will be greatly improved if I have the supplies I need! So, I'm getting our Rainbow Crochet Hooks and Case set so I'll be ready to learn when the inspiration strikes! I'm getting the red case, but the set is also available with a black or teal case.
Remember, our Flash Sale ends tonight at 11:59pm PT, so you'd better hop on over to www.knitpicks.com and start shopping! For complete terms and conditions visit
Save