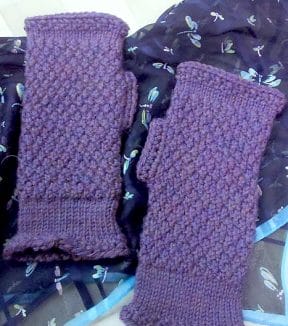 I am rarely not wearing a scarf. If the weather is chilly, it will be a warm, handknit beauty. If the weather is warm, it will be chiffon, silk or even cotton. Oftentimes something I've found at World Market or Anthropologie. I only have a couple of scarves from Anthropologie because they are a bit spendy. But, I find that I wear those scarves a lot.
Scarves have been my signature style for as long as I can remember. I think it has something to do with my being so Irish – read "pale". I've never been fond of the large expanse of pasty white from my forehead down to whatever top I am wearing. I also appreciate how easily a scarf can pull an outfit together. And, expand my wardrobe when I'm traveling.
Over this last year, I've noticed that my hands tend to get cold. I've decided to add fingerless mittens and gloves to my style. They won't all be handknit for the same reasons not all of my scarves are handknit. But, since we have had such a flood of new colorways in old favorites like Swish DK, I grabbed a couple of balls and whipped up these mittens in just one day. Thank goodness college football has started! BTW, despite my poorly lit photography, Amethyst Heather is quite lovely.
Emerald Green Handwarmer by Creative Yarn is a very well writtin pattern. But, I did make a couple of changes for my mitts. First, I knit them both in the round at the same time rather than flat. You know how I feel about seaming.
When I got to the point where I wanted to have the thumb openings, I simply knit back and forth on the mitts for about ten rows. When I was completely finished, I worked two rounds of single crochet to dress up the thumb opening.
I know the "back and forth" thing might be confusing in terms of having both mitts on a Magic Loop at the same time. Well, here is how you knit back and forth. Knit the two fronts, re-arrange the cables and knit the two backs. Normally, you would then go on and knit the fronts again making the join of the entire round. But…..
turn your work, knit the backs maintaining the double seed stitch pattern. Arrange the cable and knit the fronts. Turn your work, knit the fronts, the backs and then come on back. After you have knit 10 "rows" continue like normal – working in the round. Now you will have the mitts joining again above the thumb opening.
Whew! Much more involved to write down than to actually do. I'm sure you will understand the concept.