Fall is here in the Pacific Northwest! This is one of my favorite seasons, because I finally get to bust out my favorite knit hats, scarfs, and sweaters. Along with my knits this seasons also brings some of my favorite fall color palettes. These palettes range from a wide variety of oranges, yellows, and reds to blues, greens and purples. If you are looking for some fall palette inspiration today look no further! I have paired some beautiful fall photos with some of my favorite fall palettes for you.
Rainy Spiced Chai Palette
Curl up with your favorite mug of spiced chai tea and this fall palette. Here I have paired yarn colors from our Palette yarn collection. Merlot Heather, Autumn Heather, Comfrey, and Mineral Heather.
Good Morning Fall Palette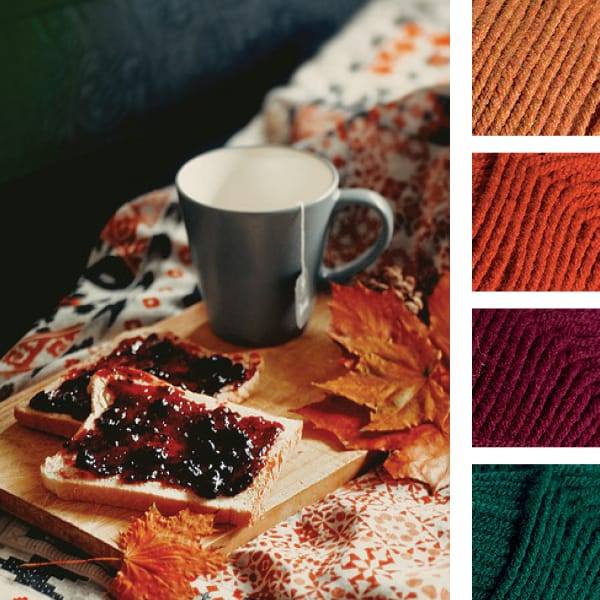 A scrumptious fall breakfast brings you a punch of color for fall. This fall color palette comes from our Brava yarn line. I paired Persimmon, Paprika, Currant, and Hunter. Mix and match these colors and choose 2 or 3 to create a punch of fall color to any knit project.
Pumpkin Pie Palette
Are you ready for pumpkin everything? More pumpkin pie for me please! From our favorite Wool of the Andes yarn collection I paired our Pumpkin, Calypso, Almond, and Oyster Heather colors. This fall color palette is for all you neutral lovers with a twist of modern fall colors.
 Fall Roads Palette
If you have experienced New England in the fall you will see plenty of roads like this. In a sea of deciduous trees and their falling leaves the stark asphalt roads creates striking fall color palettes. From our Brava yarn line I paired Brindle, Paprika, Asphalt Heather, and Almond to simulate this fall scenery.
Pumpkin and Gourds Palette
I can't wait to hit the pumpkin patch and fill up my wagon with a bunch of these beauties. From our Wool of the Andes yarn line I have paired Firecracker Heather, Pumpkin, Golden Heather, Bamboo, and Shire Heather to create this brightly colored fall palette.
Fall Foliage Palette
Deciduous Trees bring us some of the most beautiful colors! This palette is far from your traditional fall color palettes, and brings some exciting color combinations. From our Palette yarn line I paired Fairy Tale, Lipstick, Rose Hip, Turmeric, and Tarragon. To create this wonderfully vibrant fall foliage color palette.
These palettes can easily be paired down to 2 or 3 colors, and still give your projects the perfect fall warmth. Bust out your fall knits and pumpkin spice everything Fall is here! If fall hasn't hit your area yet, I hope this post gives you something to look forward too. Happy Fall Everyone!