Growing up, my beloved grandmother always knit or crocheted at least two afghans for her grandkids. One was given to us right after we were born (mine was a Raggedy Ann & Andy blanket), the other was given when we were 18 and was a series of squares, some plain, some with our favorite colors, some with pictures of things we loved (cats and books features heavily on mine – not much has changed). With that in mind, we have put together a collection with a similar theme – the Milestones and Memories collection!
Included in this book are 47 charts you can mix and match in different projects to celebrate a special moment. These charts were created in house and by some of our favorite designers such as Emily Kintigh, Allison Griffith, and Heather Storta. Using a combination of intarsia and duplicate stitch, each chart knits up to a 10″ square and, by piecing them together, you can create a unique gift for someone you love. We put a few examples in the collection to show you but each project is designed to be personal to you.
For instance, we think this would be perfect for a special wedding gift. Use our suggested layout of hearts, wedding rings, cake and champagne glasses or choose other charts that represent the happy couple. We've included some blank charts in the back so you could even create your own.
Probably the most popular use for this collection is for celebrating a new birth – such as what my grandmother did for me and my cousins. These adorable squares can be done in any combination of color and are easy to to mix and match – rather than in a monochrome colorway like ours, you can choose unique brighter colors, as we show in the Baby Pillow.
Either way, this will make a thoughtful gift for new parents – and something that will be kept for a lifetime.
Speaking of pillows, if you want a quick project for yourself or for a fun gift for someone else, we've included ideas for cute pillows featuring our favorite hobbies! Cooking, sports, nature, yarn crafts, sewing – the possibilities are endless.  These 20″ pillows are perfect for a couch or bed – and they're pretty comfy as floor cushions too.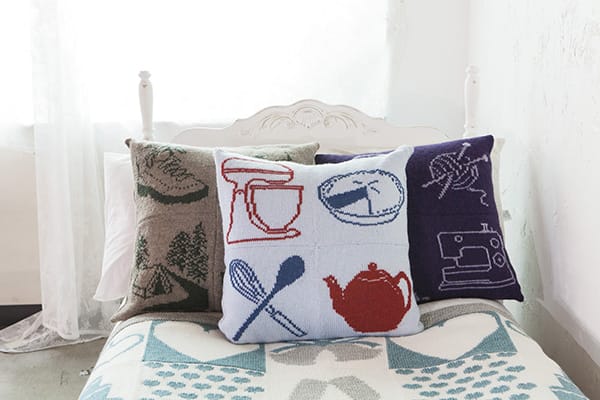 It's so much fun, playing with these squares and figuring out what I would do for myself or for a gift. I love the pillows best of all – I've thought long & hard of exactly what my pillow would look like. So I love knitting, of course, and I still love cats. I think would add in my love of baseball and bike riding – and now I have a cute idea for a pillow!
We hope you enjoy this collection – we can't wait to see some of the combos you come up with. What images would you choose for your own personal project?
Save
Save