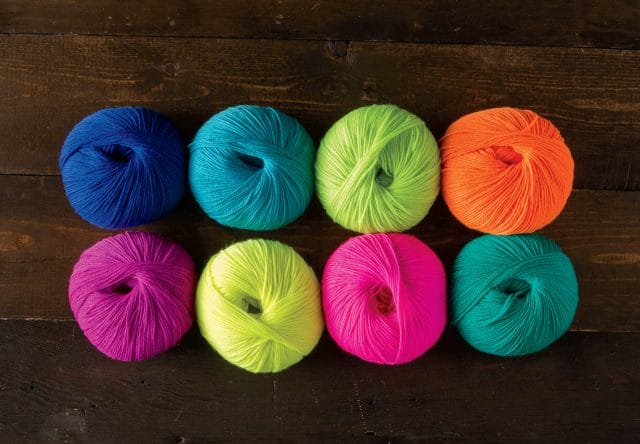 Each decade provides its own iconic color palette that when you see it years later, it gives you that fantastic nostalgia of a time that seemed so awesome. Like a few of us here in the office, I'm a child of the 80s (and a little bit 90s), and the color palette that throws me back into my childhood in California is definitely neon.
Neon colors grouped together correctly are like a screaming rainbow of joy. I find neon somehow both invasive and enjoyable. It connects highlighters, childhood, and Pacman all in one vibrant blow to the eye. I've been tossed back into childhood a lot lately thanks to the rise of fashion styles that are exploring the celebration of electric color once again.
It just so happens that one of my first color selection meetings here at Knit Picks was for the Superwash Capretta Neon, a fingering weight yarn. It was amazing to see how many times the color swatches were grouped and disbanded, only to be rearranged over and over again: colors were swapped and selections were made. It was a whirl of neon and by the end, we had this wonderful range of familiar and fun colors.
Neon is a wonderfully fun way to explore colorwork. With Capretta Neon you have the chance to enjoy luscious merino wool and cashmere in the colors of Highlighter Yellow, Outrageous Orange, Blueberry Blast, Tubular Turquoise, Pucker, Vibrant Violet, Totally Teal, and Pickle Juice. Pair these colors with a dark black or a gray and watch them pop out like a video game! Work them together and use them for a fashionably visible beanie or scarf for gray weather walking. You can also go full Olivia Newton-John and get physical with some cashmere sweatbands…which may or may not be what I'm planning on.
Here are some patterns that will truly pop! in Neon Capretta Superwash :
Patapsco Legwarmers and Headband
Knits for Everybody Slippers and Socks