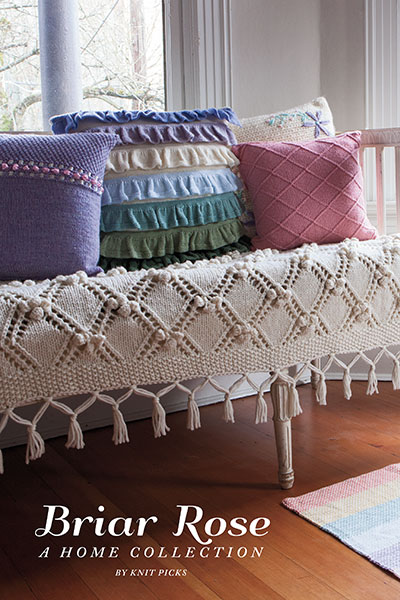 With spring right around the corner, our new Briar Rose collection brings a cozy pastel palette to chase away the last of those winter blues!  Today we'll show you some more behind-the-scenes photos of these dreamy knits, just in case you needed that last little nudge to cast on one (or two!) of these sweet little projects.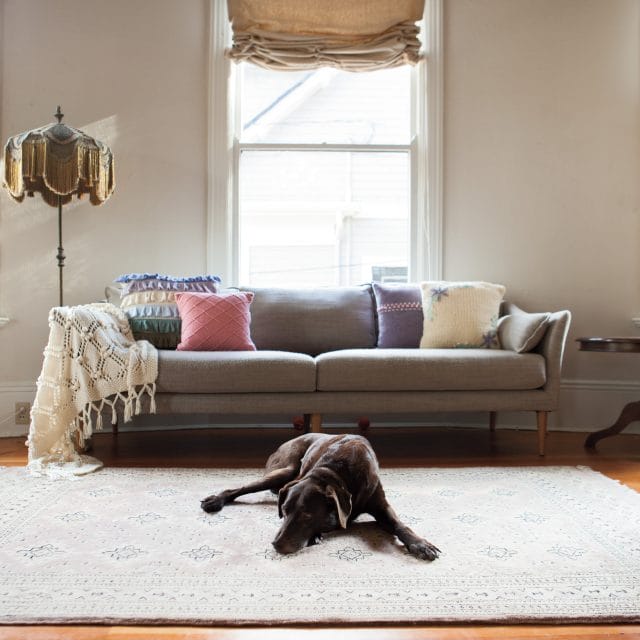 We found the perfect house in near the bustling NW 23rd Avenue area in Portland OR to photograph this collection. Not only was the house beautifully situated, we also had some rare golden rays of sunshine stream in throughout the day to highlight our collection! This shot of the Garden Path Throw, Ruffled Pillow, Charming Cushion, Ingenue Pillow and Floret Pillows was carefully set up and, just as we were about to take the photograph the very old gentleman-pup who lived there decided that he needed to settle in for an extended nap in the middle of the rug. So cute! After much cajoling we convinced him that it would actually be much nicer to settle in another room but not before we got some cute photographs featuring his snooze. Pets are always a surprise and welcome bonus when we go out on a location photo shoot. More pups please!
We wound up following him around the house as he found new places to nap throughout the day. The Petit Jardin Bunting looked wonderful over white fireplace mantle and we loved including him in these photos too! Eventually he got tired of all these ladies staring at him while he was trying to sleep so he sauntered off….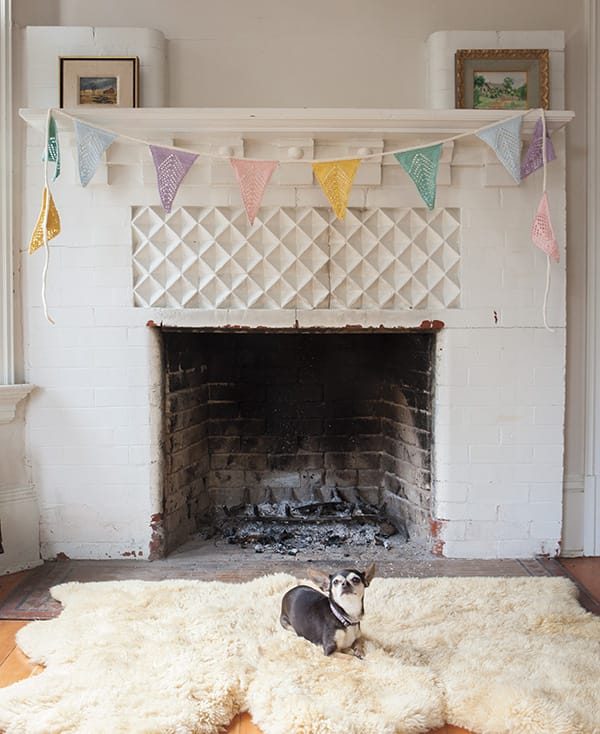 Only to have his warm snuggle spot occupied by Taco the teeny, tiny chihuahua as soon as he got up! These dogs were such a charming part of our day that we had to include them in the printed collection.
The locations we choose for our pattern collections usually play a supporting role – complimenting but not overshadowing the patterns we've carefully curated. However, this location was such a magically perfect fit that we wanted to highlight some of our favorite behind-the-scenes images and stories that we had from that day. Projects like the Posies Kitchen Set blend in so seamlessly with the decor already in place and the resident pets charmed us with their antics, it'll be difficult to top this photo day in the year to come!