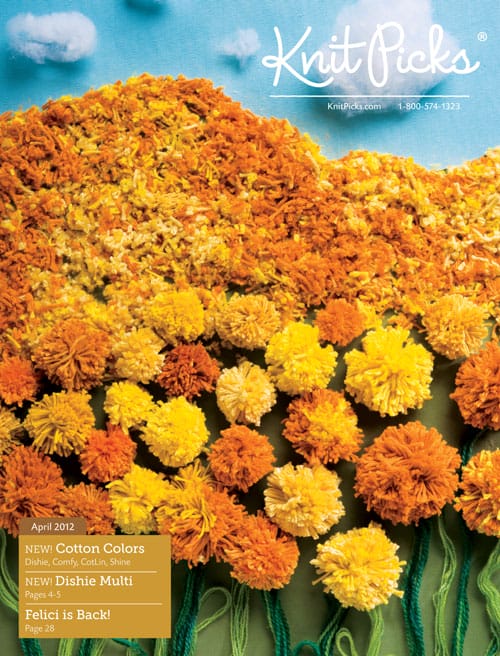 I'm so excited to share the catalog cover for April 2012! I knew I wanted to do something with our lovely range of cotton yarns and I definitely wanted to create flowers but it took a few tries to get the cover just how we wanted it. My original idea involved big, daisy-esque flowers with cotton balls arranged as petals, but that just seemed too, well, big. Amy and Sarah in our photo department came up with the idea to do pom poms instead.
So, we rolled up our sleeves, unearthed our scissors and got to work with Shine Worsted in Dandelion, Clementine and Creme Brulee, Shine Sport in Clementine, Caution and Dandelion, Comfy Fingering in Sweet Potato, Comfy Sport in Carrot, and CotLin in Clementine, Creme Brulee and Canary. We made pom poms by wrapping the yarn around three fingers until we had a nice, thick layer (about twenty times). Then we used a strand of the same yarn to tie the bundle of loops together in the middle. Cut the loops, fluff and trim the ends so that they're even and you're left with a delightful little pom pom! We made a bunch of pom poms and a huge mess. To get different sized flowers, we alternated between wrapping the yarn around two or three fingers. My favorite pom poms are the ones that mix different colors together, and the ones made from Shine have such a lovely luster!
The bits of yarn we trimmed off of each pom pom were saved and sprinkled on our green fabric background to fill in the field. I can't help thinking about the huge field of poppies in the Wizard of OZ when I look at this picture! We cut a sweep of sky from a curtain and made clouds out of Polyfill stuffing but the image still needed a little something. At the very end, we made stems and leaves from Shadow Tonal in Canopy and Springtime. Perfect!
Now I have a container full of pom poms! I definitely need a project to help me use and show off these little lovelies. If you have some time, make sure to leave me a comment with your favorite way to use pom poms. Enjoy our April catalog and the coming spring!