With warmer weather just around the corner (at least hopefully for us here in the Pacific Northwest), more of my project planning starts to focus on working with cotton yarns and blends. For me, shifting from planning and working up projects with animal fibers to plant based fibers can be a bit tricky since cotton fibers play by their own rules. This means that we as knitters and crocheters must sort through additional guidelines and characteristics to achieve the desired results that we are looking for in our projects.
To help explain why protein and plant fibers differ, we have to look closer at the structure of the fibers. Unlike wool and other protein fibers, cotton yarns are made up of cellulose fibers. These are fibers that typically are inelastic, yet very strong and durable. The structure of these plant fibers also have the ability to pull away heat instead of retaining warmth. You can work with these qualities to your advantage, however – if chosen without these considerations, your project may not turn out as expected.
One of the main qualities that knitters and crocheters look for in a cotton yarn is the ability to absorb moisture and pull away heat – making it a must-have fiber for those in warm climates. Yarns like Simply Cotton work up beautifully for projects that you want to be soft to the touch yet durable. I particularly like Simply Cotton for light summer tops and even baby blankets. When you are working with fitted garments, keep in mind that cottons can tend to get heavy especially when textures and cables are incorporated. This can result in the heavy fabric weighing down your garment and causing it to stretching out. However, if size is not an issue – like baby blankets, for example, then adding cables and textures shouldn't be an issue.
Because of cotton's natural inelasticity, garments can sometimes tend to stretch with wear. Washing the garment can generally make the fibers bounce back a bit, but it is an ability that will wear away with time. One solution to this dilemma is to work with a cotton yarn that is blended with another fiber, like the Comfy yarn family. Pima cotton supplies strength and softness while the addition of acrylic helps in adding a bit of elasticity to the yarn. This works particularly well for projects like garments and accessories where a close fit is important.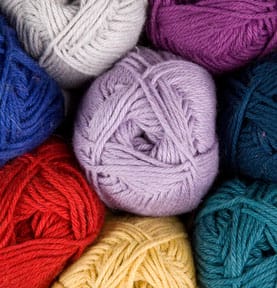 On the other hand, there are also different cotton blends that can help you achieve a bit of drape for your next project. CotLin is a great example of a fiber blend that works well for this particular quality. Linen fibers are naturally very strong while being resistant to stretch. Additionally, the linen fibers add a sense of drape and are one of the only fibers that actually get softer with every wash. This makes CotLin great for projects that require strength and drape. Another fiber blend that works well for adding drape is Modal®. This is another strong fiber that is soft to the touch with a brilliant luster. The Shine yarn family blends cotton with Modal® for a yarn that lets you dress up your next project with its lovely sheen, all while providing you with a nice drape. The luster of the Modal® in Shine is also excellent for showing off textured stitch patterns.
And speaking of cotton's inherent strength and durability, there are many instances where you can use this to your advantange. Projects such as dishcloths, hand towels, and even home décor will benefit from this quality and be able to withstand the wear and tear of daily use when made with a cotton yarn. Tightly spun cottons, such as Dishie, are particularly well suited for jobs like these. Additionally, Dishie's strength and durability also make it a great choice for projects like toys and market bags (another summer favorite of mine!).
So before starting your next project, make sure to consider its structure, use and needs. By knowing the qualities and properties of different cotton and cotton blend yarns, you'll be able to match a yarn to your next project that will make it shine. Working with the natural properties of cotton, instead of fighting against them, will help to ensure a successful project.
What are your go-to cotton yarns? What kind of projects do you like to use cotton for?