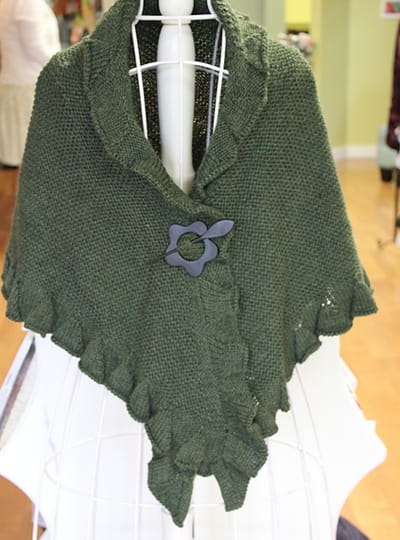 (Photo from Ravelry pattern page)
You know how much I love lace shawls. But, I also appreciate simple, wear anywhere shawls.
My favorite style is Faroese because it has relatively long "wings". Women could cross the "wings" across their chests and tie the ends behind their backs. The shawl stayed in place while the women attended to their chores.

I've been saving a precious stash of drop-spindled alpaca for something special. A friend had bought it for me while she was traveling in Peru. I imagine it was spun by a woman much like the one in this photo. I knew I wanted to use it for a shawl but I kept hesitating when I looked at lacy patterns. I wanted the shawl to be something I wore frequently because I knew that would be the best way to thank my friend for her kindness.
While wandering through Ravelry, I found Cat Wong's Milk Run Shawl. I would have told you about it earlier but it knit up so quickly I never got around to blogging about it. Even though it isn't designed as a traditional Faerose Shawl, I am able to wear it like one.
The pattern has instructions for several different edgings. I chose to have ruffles on all three sides. I may make one or two more of these shawls. It was that easy to knit and it is a delight to wear.
Since I cast off this shawl, I have worn it every day! Usually in my office but always wrapped and tied in the back. That way it acts like a vest. It is relatively small which means it is going to be perfect for trips this summer. I'll be able to toss it into a bag when I head to the beach, a picnic or dinner with friends. The alpaca fiber means that it is very warm even though it isn't particularly large. And, the chocolate brown color will go with everything in my wardrobe.