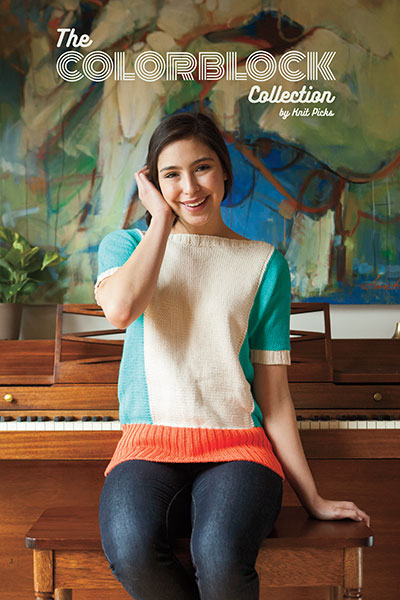 Have you seen our newest book, The Colorblock Collection? With a great range of garments (including several sleeveless tops) and cheerful colors it's the perfect collection to welcome the first hint of warm spring weather! Here are my three favorite patterns from the collection (awww… who am I kidding!? They're all great!).
First up is my very favorite sweater, the Sunbeam Pullover by Katy Banks. Lindy Chain has been having a bit of a renaissance around the office as we rediscover just how wonderful the finished fabric is. Sunbeam is no exception, the finished fabric has such crisp stitch definition, wonderful drape and excellent breathability. We definitely uttered a collective "GASP!" when this sample came in to the office.
I love the colorblocking in this particular sweater, too. Sagebrush (my favorite!) next to Ash's rich grey is so stunning in person. Plus, this pattern is worked from the top down, something I definitely look for in a pattern.
Katy Banks has a second pattern in this collection, this time in Preciosa Stormy and Anemone called the Cheer Up Cardigan. True to its name, I definitely giggled and clapped when I had a chance to try this on! Perfectly fitted cuffs, cute pockets and a really unique use of color, as a design feature, make this cardigan a clear winner.
Just check out that sleeve stitch detail! It's so hard to get such great stitch definition with a single-ply yarn but that's never been a problem with Preciosa. Plus, the tonal color shifts within each colorway adds another, subtle design element to this pattern.
Lastly, the Faela by Amanda Schwabe features 3/4 length sleeves and a soft A-line shape. The tunic length drapes flatteringly over the hips with the addition of side slits through the ribbing section. The designer has put so many thoughtful but subtle details into this design, giving the finished project a truly perfect fit.
The Faela is my ideal lounging sweater. Perfect with a pair of sweatpants for a lazy weekend or dressed up with leggings and boots for the office, it's a versatile piece with just the right amount of ease. Plus, there are so many Bright colors available in Swish as well as heathers and solids, you can easily pick a palette to suit any wardrobe! I'm smitten with all of the patterns in this collection ( and I'll have to admit that I've tried on most of the samples, too!). They're just the right thing to ring in Spring, and usher winter weather out for good.
Do you have your eye on a pattern from Colorblock? Or perhaps you're like me and just can't decide which one to start first! Let us know in the comments!