I bring you our first top five list for 2016 – The Top Five Yarn Lines! As the merchandise planner For Knit Picks I especially enjoy analyzing what keeps your needles and hooks active and wanted to share what YOU made our most popular yarn lines. There weren't too many surprises, basics are key with this crowd, and I'm sure we all have a hank or two of these in our stashes.
#1 Wool of the Andes – Worsted – 50g Balls
Definitely not a surprise. Our 100% Peruvian Wool anchor not only is part of the Low Price Guarantee, but has over 100 colors to choose from, just beating out Palette for number one.  Dove Heather, Coal, and Cloud topping the list. With 35 patterns featuring Dove Heather there's no doubt that it's popular with our designers too!
#2 Palette – Fingering – 50g Balls
With over 150 colors, also in 100% Peruvian Wool, Palette swooped into a close second. Again, staple colors take the lead with White, Cream, and Black our top selling colors. The Persian Dreams Throw  in Palette shows off the stunning range of colors and features those popular basic colors too.
#3 Brava – Worsted – 100g Balls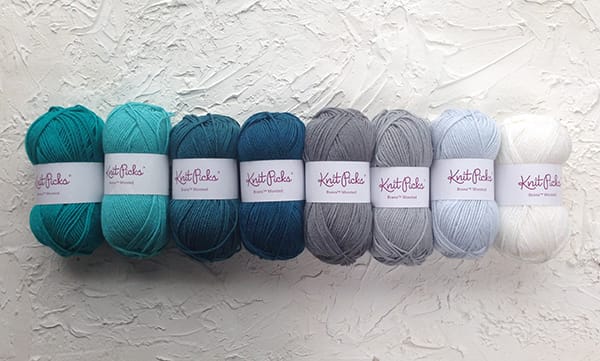 Next, we move from 100% wool to our 100% acrylic with our Brava line, another Low Price Guarantee yarn coming in at number 3 and 4 in our list with worsted weight just edging out sport weight. Of the 50 colors in the line Cream, White, and Dove Heather were your top picks. One or more of these colors are featured in 34 different patterns!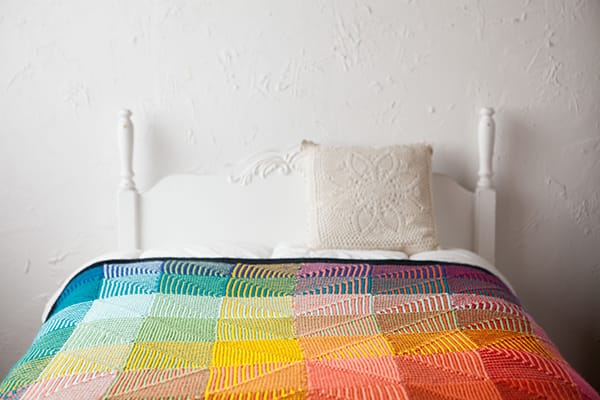 With how popular our Hue Shift Blanket pattern is I was more surprised this line didn't take number one. I'm guessing everyone has a ball of Black, White, and Red in their stash, no?
#5 Mighty Stitch – Worsted – 100g Balls
Our powerhouse blend of 80% acrylic and 20% superwash wool in 30 colors rounds out the top five. Going a little off the color trend set by the previous lines, Silver, White, and Celestial are the top three colors in this fantastic yarn. Easy care makes for easy gift giving!
Honorable Mention: Because Felici is Special Reserve it didn't make the top five lines, however I couldn't not mention that Beyond the Wall Felici was the 5th most purchased yarn color overall in 2016! Pretty amazing.
Save