So as I said last week, Alisha, Jenny & I all headed to sunny Phoenix for The National Needlearts Associate (TNNA)'s winter show.  It was so much fun!  Not least of which was the beautiful Arizona weather we got to enjoy.
But sadly, we weren't there for vacation – we were there to work!  First step was to set up our booth for yarn shops to order needles & tools for their stores.
I also got a little area to show off our IDP program!
That was the most fun for me – I got to meet so many IDP designers in person finally!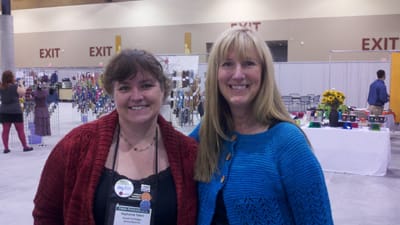 The first ones I met were Stephannie Tallent & Audrey Knight. Both are part of collections coming out from Cooperative Press, and I'm thrilled for them.
It was also fun to see some familiar faces – Linda Permann even gave Jenny & Alisha a quick crochet lesson.  Now both of them are excited to take her Craftsy class.
And Michelle Miller had a booth with her gorgeous patterns.  Jenny & I were drooling over them – she's wearing our favorite in the photo
On the second day of the show we had a little meet & greet for designers – both current IDP designers and those who wanted to find out more information
In this photo are Faina Goberstein, Sarah Wilson, Audrey, and Simone Merchange-Dest, a (hopefully) new IDP designer!
Also much of the time was chatting with LYS, both those who already carry our needles & those who are new to us.  We also got to see some new products from some our favorite people, such as Interweave Press, Knit Happy, Soak, Chic-A, and Namaste.  In fact we were located right between the Interweave Press booth & the Knit Happy booth, so we had a good time talking with them.  And Knit Happy had cupcakes!
All in & all it was a great trip!  We are really excited for the next one!