A few months ago we began to carry Kromsk spinning wheels and rigid heddle looms. As our rainy, chilly winter weather continued up through last weekend, I succumbed to the temptation of the 36″ loom sitting in Alison's office. 
I wove a lot right after graduating from college. No, I'm not going to give you specific dates. Let's just say it has been a very long time since I sat at a loom full of colorful yarns. But, I have very fond memories of my woven textiles. 
The first step was to look through my yarn stash at home. Weaving is a wonderful way to use up lots and lots of yarns. Sock Summit opens next week.I've been struggling with the dilemma of having a rather large stash of fingering weight sock yarns. A good friend reminded me that weaving uses a lot of yarn. Lots of mixed and matched yarns. The more varied, the better. So, another justification for me to take home a rigid heddle loom was to be able to weave up a good chunck of my fingering weight yarns so that I can go a bit crazy at Sock Summit.
My general stash is well organized. But the bin of sock yarns was filled with all sorts of untouched skeins and odds and ends. After some digging, I ended up with two collections of yarns that would make very nice scarves. One is very autumnal colored while the other is a collection of shades of turqoises. I decided to begin with the turqoises.
I chose this group for the warp.
And, this leftover Imagination for the weft.
After I got the warp yarns out of their wrappings, I realized that the skein of yarn was different than the balls of yarn. Two types of yarn in the same dye pattern. Umm, design plans needed very early on in the process.
With the help of the Harp loom's built in warping board and these two books – Hands on Rigid Heddle Weaving by Betty Lynn Davenport and Weaving Made Easy by Liz Gipson, the whole process went smoothly after my small yarn difference discovery.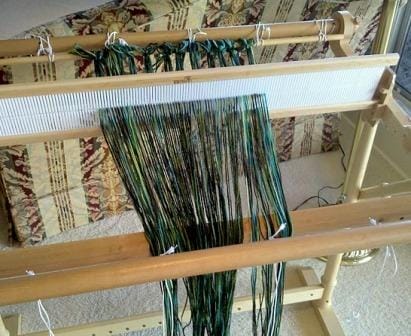 I ended up putting the yarns from the skein on the outside edges of my scarf warp. I also chose to double up the ends going through each hole and slot. My plan is to have the edges be a bit more heavy than the center. That way, when I fold the scarf around my neck, the scarf may be a bit less bulky against my neck. 
The weather prediction for this weekend is warm and sunny. Great! I can move my loom out on the deck, make myself lots of iced tea and weave to my heart's delight. Whenever I need a break, I'll go through my collection of sock knitting books to make plans for next week's sock knitting summit.