We are SO excited to introduce our newest hand painted yarn, Muse! Worsted weight, hand painted, Merino wool, and machine washable; it checks a lot of boxes, both for our resident yarn nerds and from our most common customer requests. Between the multicolor masterpieces of Hand Painted and sophisticated solids-plus of Tonal, there are lots of ways to enjoy this brilliant and incredibly satisfying yarn.
Our most dedicated customers will remember a smattering of Special Reserve yarns that we introduced at the end of last year that came from Japan. Although those were the first Japanese yarns that we carried, Muse is actually the realization of our newest fiber partnership and our first exclusive collaboration with a Japanese mill, made to our specifications and designs. We've been eagerly anticipating showing off these lovely handcrafted works of art!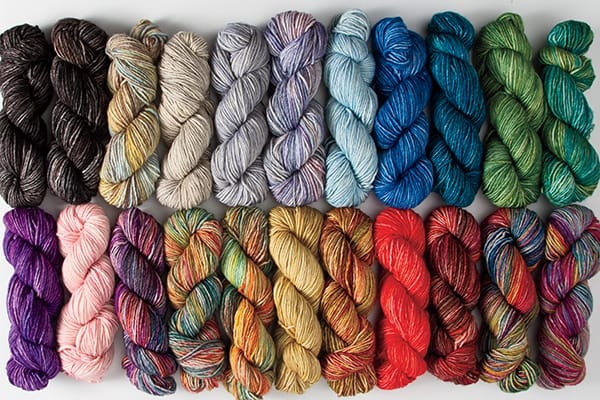 The big thing about Muse is, of course, the colors. While we do have a number of other lovely hand dyed yarns (hello, Hawthorne), our newest polychromatic presentation is particularly spectacular. Part of that is just the fact that most of our hand dyed yarns are sock yarns in fingering weight and it's been some time since we've done a variegated yarn in a heavier weight. Or at least a heavier hand painted yarn. We did introduce Felici Worsted not too long ago (which I'm sure we'll see again) and brought back Dishie Multi, but Muse is something else altogether. The master dyers at the Japanese mill were eager to work with us, and our color champions threw a whole host of persnickety palettes at them. We honestly weren't sure what to expect, and they nailed it. We couldn't get the yarn fast enough after that.
It wasn't until later that we found out exactly why it looks so good.
When we say this is hand painted yarn, that isn't a style or an idle superlative or a marketing buzzword. Every single one of these hyperchromatic hanks is literally painted. By a person. With their hands. Although we probably should call it artisan painted. No more than 3 dye colors are used for any colorway. Even the crazy rainbow colors like Euphoria, with a plenum of tones in hues from all around the color wheel. Mixed and blended by hand, painted and dyed by hand. This is not a science, in the best possible way.
To be completely honest, I personally am not the most overwhelmingly enthusiastic aficionado for hand painted yarn. As a recovering monochromist, I have come around to enjoying colors rich and deep, but still am most comfortable with restrained palettes in a fairly narrow range. It's a surprise to no one that I immediately gravitated to Opulent as my Muse colorway of choice. But even I am surprised at how much I like some of the more . . . ebullient colorways, largely because of how surprisingly even they knit up. I am picky about my colors and my color distribution, so the way some hand painted yarns can stripe and pool almost at random sometimes just . . . bugs me. But Muse is so precisely dyed with such care and such intention. In some ways it's a contradiction. You see how bright and vibrant and wildly alive the colors are in the hank, but it's not until it knits up that you see how balanced and even and controlled those colors are, in a way that paradoxically enhances the enthusiastic abandon of the color selection.
Elation Hand Painted in the hank

Elation Hand Painted swatched



Infatuation Hand Painted in the hank

Infatuation Hand Painted swatched
It also wasn't until we actually knit with the samples that we really got to experience the full effect of Muse, the meat of the matter. Or rather, the fiber. Much has already been made of the price of Muse, particularly at the yardage. And more specifically, the yarn weight and yardage. 115 yards at 100 grams is usually much more bulky territory, but Muse is spun so densely that it genuinely averages out to about 8 wraps per inch, perhaps a smidge more. And the proof is in the pudding, or rather, in the knitting. It definitely knits closer to a Heavy Worsted or Aran weight than Bulky.
I'm working on the Shasta Vest in Muse Hand Painted Opulent right now. The pattern was written for Swish Worsted, with gauge at 18 stitches to 4", calling for a US 7 needle. I wanted a particularly firm fabric and swatched on gauge using 6s, which already indicated that it's significantly heavier than our regular worsted weight yarns. As I got further into the vest, I realized that the needles were just too small for the yarn. Although my gauge was on, I was coming up with a fabric that was stiff, rather than just firm. Sizing up to 7s got a much more satisfying drape, still nice and dense like I wanted, but not unnecessarily rigid as before. (The size change wrecked my gauge and I had to do quite a bit of refiguring and reknitting, but so it goes.)
The sweet spot for me is really a US size 8 needle or even a 9. It's not really until then that the fiber gets some breathing room, acquires a nicely flattering drape, and the Merino can bloom a little. And I can assure you that it definitely feels like Merino. At a tighter gauge, the single ply stays tight and it feels more nicely smooth than fleecy soft, like you'll find with our other single ply Merino yarn, Preciosa. The difference comes partly from the firm spinning and partly because Muse is Superwash. At a larger, looser gauge, the twist relaxes, the fiber does open up, and you get more of the softness you expect from the softest wool. Regardless of your gauge, it's a much tighter, smoother, altogether more serious yarn than fluffy and insouciant Preciosa. They may both be single ply Merino, but Muse not only has the astounding hand painted colorways, but is altogether firmer, with a satisfying heft and profundity.
Because it is Superwash, you can throw Muse in your washing machine. Of course, it is a yarn definitely meant to be cherished and cared for, so you'll want to be sure to take an appropriate amount of vigilance, i.e. gentle cycles, cold water, a garment bag if you have one, consider drying flat to skip the dryer. It'll be better to work at a tighter gauge if you plan to machine wash, since it will be more resilient and you'll get less pilling; another reason I wanted a tight gauge on my vest. If you do want a drapier, more open gauge to get as much loft as possible, you might want to consider hand washing, even if machine washing is an option.
Conifer Cap in Rooted Tonal

El Train Cowl in Euphoria Hand Painted
We're excited to see what everyone does with Muse. We've already prepared a few free patterns for simple accessories that only require a single hank. These hat, cowl, and slippers give you an idea of how Muse looks and what to do with it. The Merino makes it good for next-to-skin accessories that really pop, thanks to the hand painted colors, and the dense wool means that they'll be extra warm and cozy. A few of us in the office have garments in progress; my previously mentioned vest in neutral extravaganza, Opulent, and a rainbow smorgasbord multicolor sweater using at least 9 colors from both Hand Painted and Tonal lines! Keep an eye out on our Instagram account for pictures of the finished projects.
Complete Muse Hand Painted Yarn Value Pack

Complete Muse Tonal Yarn Value Pack
These free patterns are an easy way to find a use for just a single hank of your favorite color. If you to want splurge and see a bunch of the fantastic colors in person, you can get 20% off any of the Yarn Value Packs with the full Hand Painted and Tonal lines. OR you can check out color curated selections from both lines with warm Sunrise and cool Mystic value packs.
Sunrise – Muse Yarn Value Pack

Mystic – Muse Yarn Value Pack